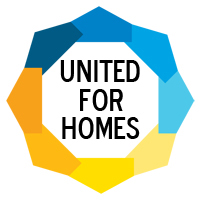 The next United for Homes (UFH) monthly webinar for endorsers will take place on April 12, 2 pm ET and is titled "Just in Time for Tax Day—Deductions, Credits, and Homeownership."  Urban-Brookings Tax Policy Center Institute Fellow and Co-Director Eric Toder will provide a detailed analysis of the implications of the UFH proposal to convert the mortgage interest deduction (MID) to a tax credit.
Attendees of all UFH endorser webinars will have firsthand access to key resources and best practices to share the message of rebalancing federal housing expenditures through modest reforms to the MID. The March webinar, "New Partners, New Voices—Expanding the United for Homes Campaign" (see here), addressed how endorsers can garner support among non-housing partners that share a commitment to social justice. It discussed the interconnectedness of affordable housing and education, public health, wages, and transportation and shared tips to successfully mobilize groups from these sectors in support of rebalancing federal housing policy to ensure the lowest income people in America have decent, stable, and affordable homes. Bringing on endorsers from a broad cross-section of sectors will be essential as the campaign builds beyond its current 2,350 UFH organizational and elected official supporters.
Future webinars will feature guest experts, policymakers, advocates, and researchers on topical issues. All UFH webinars are available on the UFH website at: http://www.unitedforhomes.org/webinars/
If you have not already registered for the monthly UFH endorser webinars, register for the April 12 event at: http://bit.ly/2irHS2E. Once you register, you will no longer need to register again for the monthly UFH endorser webinars.
If you are not already a UFH endorser, please join the campaign at: http://www.unitedforhomes.org/join-the-movement/
If you are not sure if you are a UFH endorser, check the list of current endorsers at: http://www.unitedforhomes.org/national-supporters/