This is the final call to register for NLIHC's Virtual Housing Policy Forum 2021: A New Day starting tomorrow, March 30-31 from 12:30-5 pm ET. The Forum will feature a conversation with HUD Secretary Marcia Fudge and special presentations from key leaders in Congress, including Senator Elizabeth Warren (D-MA), Senator Rob Portman (R-OH), Senator Ron Wyden (D-OR), Senator Brian Schatz (D-HI), Senator Chris Van Hollen (D-MD), Rep. Joyce Beatty (D-OH), Rep. Jesús "Chuy" García (D-IL), and Rep. Mario Diaz-Balart (R-FL). Register for the Forum here.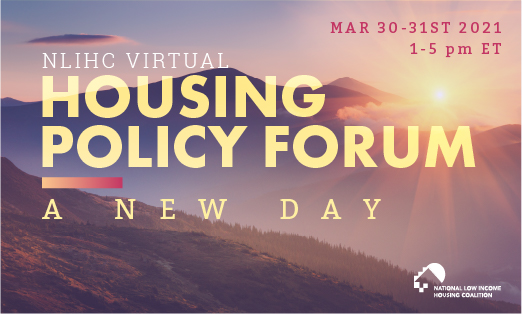 There will also be speakers and panels on Racial Equity and Housing Justice; Best Practices in Organizing; Legislative Opportunities to Advance Housing in 2021/Capitol Hill Insiders Panel; State and Local Emergency Rental Assistance Programs; Achieving Universal Housing Assistance; Lessons Learned: COVID-19 and the Need for Structural Reform; Sharing Stories of Lived-Experience to Bring About Change; and more.
Please also register separately for the optional speed networking session, which will open Day 2 of the Forum (March 31) from 12 to 12:50 pm ET. This session will be hosted on a platform called Meetaway, in which attendees will be randomly assigned to a series of 5-minute 1x1 conversations with other Forum attendees to share and learn from one another about work, priorities, strategies, or anything else you would like to discuss. Register for speed networking here.
Register to attend the Forum at: https://bit.ly/3eT15aQ