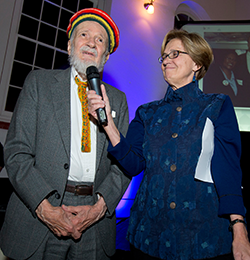 From left: Louis Dolbeare and former NLIHC President and CEO Sheila Crowley at NLIHC's 40th Anniversary Gala in November, 2014
It is will profound sadness that we share the news of the passing of Louis Dolbeare, spouse of NLIHC founder Cushing Dolbeare and a great friend and supporter of NLIHC's work since its creation in 1974. He passed away Saturday, October 15, just a few weeks after his 100th birthday. All of us who knew and loved Louis feel blessed to have been graced by his humor, joy, and intellect – as well as his lifelong passion for social justice. We will miss him dearly.
His obituary:
"Louis Prescott Dolbeare, 100 years and 18 days old, the would-be flaneur-writer, poetaster, sometime urban planner, househusband, family man and dissembler since adolescence, died of cancer on 15 October, in Seattle. He was with his daughter, Mary Oak, and son-in-law, David Fries, when he passed peacefully.
"Born 27 September, 1916, in Brooklyn, NY, Dolbeare was the son of Caro Elizabeth (Prescott) of East Milton, NY and Louis Urban Dolbeare of Norwich, CT. He married Mary Cushing Niles VI (known as Cushing) in Baltimore's Unitarian church on 1 July, 1956. Two children were born to the couple: Mary Cushing VII in 1958 and Louis Niles in 1960. Cushing predeceased him in 2005. His only sibling, Mary Ellen, died in 2007. He was the grandson of sculptress and occasional poet Katherine Tupper Prescott.
"Dolbeare graduated from Phillips Academy (Andover) in 1935 and Amherst College in 1940. He moved to Washington DC in 1940 to work at the Office of War Information and survived a plane crash in 1942 while en route to open the OWI's office in London. He was sent to Paris after its liberation in 1944 and was in the City of Light in uniform to celebrate V-E day the following year.
"Dolbeare received the degree of Master of City Planning from the Graduate School of Design at Harvard University in 1948. Thence he moved to Philadelphia to start a career in various aspects of planning. However, he never worked for the city planning commission, a false assumption too often made. After a career of 28 years in planning, at 61 he retired and continued to draw a not insignificant pension from the Commonwealth of Pennsylvania for the next 39 years.
"In 1977 he became a house spouse in the row house in Washington, DC that he and Cushing moved to so that she could devote herself to housing activism. The National Low Income Housing Coalition, which Cushing had founded in 1974, benefitted from intern Louis running the mimeograph machine, handling the mail, and the odd scrivening job. Louis volunteered at the nearby headquarters of the ACLU and remained there for 25 years. A lifelong Democrat (to the horror of his parents) he was also active in Americans for Democratic Action and the American Institute of Planning. Though conventional in many ways, Louis was also a homeopath, agnostic, and prodigious writer of letters and, in later years, obituaries for his many friends whom he outlived. He came out in 1995.
"In 2002, Cushing and Louis moved to Collington in suburban Washington DC. In 2009, Dolbeare moved to an apartment he helped design in the basement of his daughter and son-in-law's home in Seattle, where he wrote a two-volume memoir Scenes of a Life. On turning 100 last month, Dolbeare received greetings from President Obama, Sen. Patty Murray, and dozens of friends and family who were blessed to know him. Besides his children and Niles' partner Robert A. Driscoll of San Francisco, Dolbeare is survived by his grandsons Christopher O'Kane of Portland, OR; Emmanuel O'Kane of various points on the globe (currently Nepal); Kyrian O'Kane of Los Angeles; and granddaughter Rosemary Cushing VIII of San Francisco.
"In lieu of flowers, donations may be made to the Village (Senior Services) at Phinney Neighborhood Center, Providence Hospice of Seattle, the ACLU, or a local community do-gooder organization of your choice.
"Louis' ashes will be buried at the roots of a new tree when the family gathers at his late sister's house in the Catskill Mountains next summer."