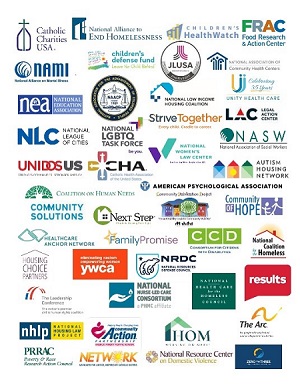 Over the past two weeks, advocates sent 850 letters to Congress through the Opportunity Starts at Home multi-sector affordable homes campaign. The letters urge Congress to include housing investments in the next COVID-19 relief package. Through the campaign's platform, advocates across the country can send pre-formatted letters that outline specific recommendations for what their federal elected officials should include in future legislation. Please encourage people in your networks to send a letter if they have not already done so.
The letters include recommendations that have been endorsed by nearly 50 leading national organizations that represent a range of sectors including education, healthcare, civil rights, faith, criminal justice, food security, municipal governance, child welfare, social work, gender and LGBTQ equity, environmental, domestic violence, and more. In some cases, these organizations have incorporated the campaign's housing recommendations into their own congressional priorities. 
Follow the Opportunity Starts at Home campaign on social media: Twitter, Instagram, Facebook, and LinkedIn. Be sure to sign up for our e-newsletter to get the latest updates about the campaign, including new multi-sector partners, calls to action, events, and research.