A new interactive dashboard released by UnidosUS in partnership with the Population Reference Bureau provides recent data on the impact of COVID-19 on Latino communities across a range of issues. The dashboard, entitled "By the Numbers: Latinos in the Time of Coronavirus," reveals national and state-specific trends in six key states: Arizona, California, Florida, Nevada, Texas, and Colorado.
The dashboard uses data from the U.S. Census Bureau's experimental Household Pulse Survey to provide bi-weekly data with race/ethnicity comparisons for seven indicators including:
Housing (missed rent or mortgage payments)
Loss of employment income
Health insurance coverage (overall/public/private)
Food insufficiency
Mental health (anxiety)
Education (classes cancelled or moved to distance learning)
Access to technology for children's education (computers or internet)
"Latino workers and families have been disproportionately impacted by the COVID-19 pandemic across nearly every aspect of their lives, which will have repercussions for years to come," write the dashboard's authors.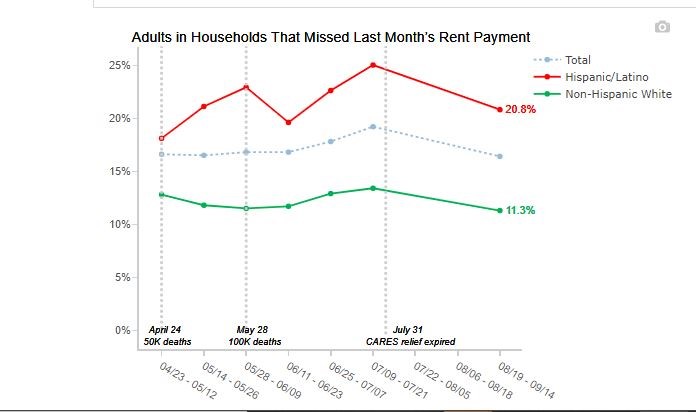 UnidosUS is the nation's largest Latino nonprofit advocacy organization and is a Steering Committee member of the Opportunity Starts at Home multisector affordable homes campaign.
Access the dashboard here.
Follow the Opportunity Starts at Home campaign on social media: Twitter, Instagram, Facebook, and LinkedIn. Be sure to sign up for our e-newsletter to get the latest updates about the campaign, including new multi-sector partners, calls to action, events, and research.