New data analyzed by the Center on Budget and Policy Priorities (CBPP) found that one in three adults had trouble paying for usual household expenses in the last seven days; the difficulty is particularly acute for Black, Asian, and Latino adults. In fact, 48% of Black adults and 45% of Latino adults report difficulty covering regular expenses, compared to 25% of white adults. The analysis also reveals that nearly one in six renters are not caught up on rent, one in five Latino and Asian renters, and one in four Black renters. One in five renters living with children are behind on rent, and more than 4 in 10 children in renter households face food and/or housing hardship.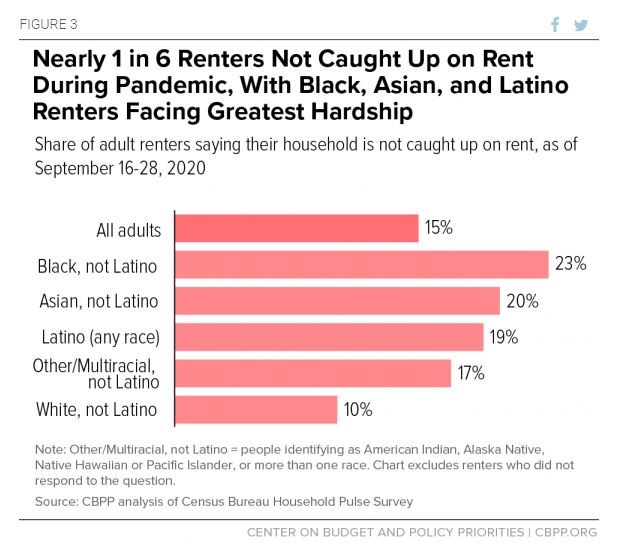 The report from CBPP also includes a state-by-state breakdown of:
Food insecurity
Increase in SNAP caseloads
People behind on rent
Difficulty paying usual expenses
Three-month moving average unemployment rate and recent jobless claim data
To read the CBPP analysis, click here.
CBPP is a co-founder and Steering Committee member of the Opportunity Starts at Home campaign.
Follow the Opportunity Starts at Home campaign on social media: Twitter, Instagram, Facebook, and LinkedIn. Be sure to sign up for our e-newsletter to get the latest updates about the campaign, including new multi-sector partners, calls to action, events, and research.