The Our Homes, Our Voices National Housing Week of Action is rapidly approaching, and advocates throughout the country are working on teach-ins, tweetstorms, rallies, press conferences, and housing tours that will take place May 1-8. The recent good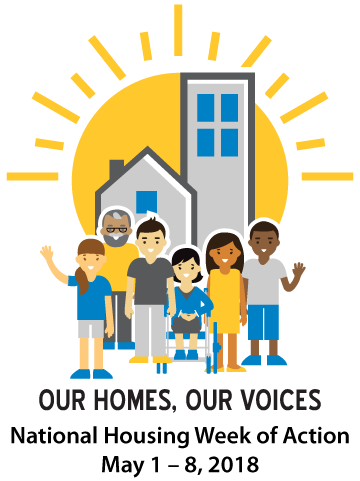 news about the final 2018 federal appropriations is proof that your advocacy is making an impact. The threats to HUD and USDA housing programs remain very real for 2019, so it is essential to continue building momentum.
Event Planning Webinar on Thursday, April 12, 2 pm ET
To assist organizations planning local events, NLIHC is hosting a webinar to discuss best practices and resources available to organizers. Attendees will hear suggestions about effective messaging, best use of templates and materials, and building turnout for a local event. The webinar will include advice and perspectives from organizers who conducted local events during the Week of Action in 2017.
RSVP for the webinar at: https://bit.ly/2H1wGH6
Merchandise Available
Show your support for the Week of Action by purchasing T-shirts, stickers, mugs, water bottles, or hats with the Our Homes, Our Voices logo. Be sure to visit the online store today so that you have your items to display by May 1.
Visit the online store at: https://www.cafepress.com/ourhomesourvoices
Visit the Our Homes, Our Voices website to learn more about the Week of Action and the campaign, and stay tuned for further updates.