Shalonda Rivers, president of the Cordoba Courts Tenants Association in Opa Locka, FL, and member of the NLIHC board of directors, testified at a hearing on November 20 before the House Financial Services Committee Subcommittee on Housing, Community Development and Insurance. The hearing, "Safe and Decent? Examining the Current State of Residents' Health and Safety in HUD Housing," focused on the need to improve HUD oversight of conditions in federally assisted housing, engage tenants in the inspection process, and promote tenant opportunity.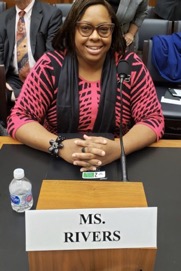 Shalonda Rivers
Ms. Rivers spoke about her experience organizing tenants to improve their housing conditions. She and other residents have been forced to live in homes with rats, termites, peeling paint, major water leaks, toxic mold, improper security, and plumbing problems that resulted in raw sewage backing up into apartments. For years, she and other residents alerted HUD and its performance-based contract administrator, North Tampa Housing Authority, about conditions in their homes – to no avail. Ms. Rivers advocated for the passage of the "Tenant Empowerment Act" and the "HUD Inspection Oversight Act."
Other witnesses included: Susan Rollins from the Housing Authority of St. Louis County, Margaret Salazar from the Oregon Housing and Community Services Department, Deborah Thrope from the National Housing Law Project, Geraldine Collins from the National Alliance of HUD Tenants, and Orlando Cabrera from Arnall Golden Gregory, LLP.
Ms. Rivers' testimony and that of the other witnesses, the video recording of the hearing, and copies of five bills are at: https://tinyurl.com/y3xp29c2