NLIHC will honor Representative Ritchie Torres (D-NY) at our 40th Annual Housing Leadership Awards Celebration, held virtually on Thursday, April 28. Representative Torres will receive the Sheila Crowley Housing Justice Award for his outstanding leadership in elevating the need for historic affordable housing investments for people with the lowest incomes in 2021. This award is named after former NLIHC President and CEO Sheila Crowley, who led NLIHC for more than 17 years. The ceremony will also honor Ann O'Hara and the Congressional Progressive Caucus. Donate to NLIHC as an individual or as an organization in recognition of these exceptional leaders.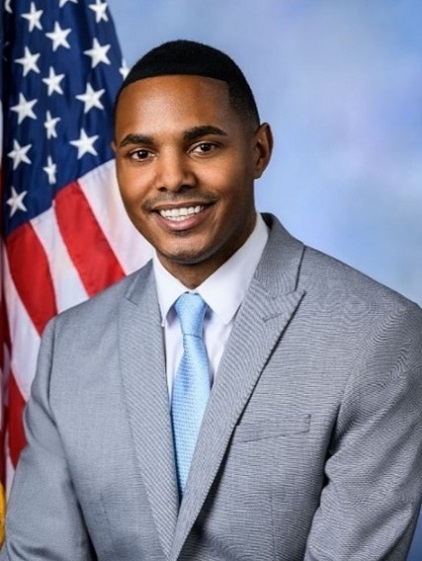 Representative Ritchie Torres (D-NY)
Born, raised, and still residing in the South Bronx, Congressman Torres grew up in public housing. At just 25 years old, he was elected to serve as a City Council member in 2013, making him New York City's youngest elected official and the first openly LGBTQ person elected to office in the Bronx. As a Council member, Congressman Torres worked tirelessly to improve, protect, and expand New York's affordable housing stock, including by holding the first ever hearing on public housing, which led to a $3 billion investment in the New York City Housing Authority.
In November 2020, Congressman Torres was elected to represent his community – New York's 15th District – in the U.S. House of Representatives, becoming the first openly gay Afro-Latino man elected to Congress. Representative Torres has already become a leader in Congress in the fight for affordable, accessible housing for people with the lowest incomes.
Congressman Torres was pivotal in ensuring historical affordable housing investments remained in the House of Representative's "Build Back Better Act," organizing "Dear Colleague" letters that galvanized the support of half the Democratic caucus. When housing investments were at risk of deep cuts or elimination from the bill, Congressman Torres met with President Biden directly to make the case for these vital investments, and he appeared frequently on national news programs, always making the case for bold housing investments for those most in need. Thanks to his unwavering leadership and awareness raising, the Build Back Better Act passed in the House of Representatives included an historic $150 billion in affordable housing and community development investments, with the largest share of those funds going to programs for people with the lowest incomes.
In addition to presenting this award to Representative Torres, NLIHC will bestow the Dolbeare Lifetime Service Award – named for NLIHC's founder Cushing Niles Dolbeare – on Ann O'Hara for her decades of advocacy for quality, accessible, affordable homes for extremely low-income households as a public housing authority director, Section 8 administrator, state housing official, founder and associate director of the Technical Assistance Collaborative (TAC), and NLIHC board member. The 2022 Edward W. Brooke Housing Leadership Award – named after the late senator from Massachusetts and former NLIHC board chair who was a strong leader for affordable housing throughout his career – will be presented to the Congressional Progressive Caucus for its exceptional commitment to advancing historic affordable housing investments to address homelessness and housing poverty in the U.S. 
Recognize these outstanding leaders by donating to NLIHC in their honor!
Donate and learn more about the event at: https://bit.ly/LEADERS22
Or text LEADERSHIP to 41444 to donate in honor of the awardees.
Your donation will be recognized in the Leadership Awards Celebration program, and your contribution will support NLIHC's mission to achieve racially and socially equitable public policy that ensures people with the lowest incomes have quality homes that are accessible and affordable in communities of their choice. Registration to attend the Housing Leadership Awards Celebration will be forthcoming.
Updates will be posted on the event page at: https://bit.ly/LEADERS22