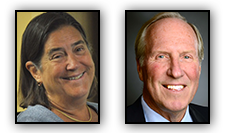 NLIHC held its 35th Annual Leadership Awards Reception on April 4 in Washington, DC, honoring J. Ronald Terwilliger with the Edward W. Brooke Housing Leadership Award and Amy Anthony with the Cushing Niles Dolbeare Lifetime Service Award.
David Bowers, NLIHC board member and vice president and market leader at Enterprise Community Partners, thanked the many event donors, including the evening's host, BBVA Compass. BBVA Compass Director of Corporate Responsibility and Reputation and former NLIHC Board Member J. Reymundo Ocañas applauded NLIHC for its strong advocacy and unwavering commitment on behalf of extremely low income people and congratulated this year's honorees. 
The Edward W. Brooke Housing Leadership Award, named for the late Senator Brooke (R-MA) who championed low income housing as a U.S. senator and as chair of the NLIHC board of directors after he left the Senate, goes to an exemplary housing leader with a record of fighting for affordable housing on the national level.  NLIHC honored  J. Ronald Terwilliger with the 2017 Brooke Award for his national advocacy to recalibrate federal housing policy to address the affordable housing needs of the nation's low income families and for the philanthropy of the J. Ronald Terwilliger Foundation for Housing America's Families.    
Bart Harvey, former chair and CEO of Enterprise Community Partners, and Henry Cisneros, former secretary of HUD and mayor of San Antonio, both spoke at the event, lauding Mr. Terwilliger for his significant financial and leadership contributions throughout his career and for his tireless advocacy for safe, decent, and affordable housing for low income households.
Upon accepting the award, Mr. Terwilliger dedicated his remarks to making the case for rebalancing federal housing policy. He said it makes little sense that 75% of all federal housing expenditures go to homeowners - most to higher income households - while three-quarters of low income households who need help the most get no assistance. He spoke strongly and eloquently about the need to reform the mortgage interest deduction and redirect the savings to affordable rental housing for low income people and families. 
The Cushing Niles Dolbeare Lifetime Service Award, named after NLIHC's late founder, goes to an individual who has demonstrated an unyielding commitment to achieving safe, decent, and affordable homes for low income people. NLIHC presented the 2017 Dolbeare award to Amy Anthony, founder and former CEO of Preservation of Affordable Housing (POAH), for her more than 30 years of building and preserving affordable homes for low income people around the country and advocating for affordable housing in her state and nationally. 
Bill Kelly, former CEO and now strategic advisor for Stewards of Affordable Housing for the Future, and Bill Apgar, an NLIHC board member and the 2015 recipient of the Cushing Dolbeare Lifetime Service Award, praised Ms. Anthony's lifetime of strong leadership, determination, and commitment to affordable housing.  They described Ms. Anthony as one of the most highly respected national experts in housing finance and policy, a fearless advocate for low income families and communities, and an exceptional leader who grew POAH from a small start-up in 2001 into one of the largest affordable housing nonprofit developers in the country, now owning and operating nearly 9,000 affordable homes at more than 70 properties in nine states and the District of Columbia.
Herb Morse, a founding director of POAH, and Kate Racer, associate director of the Massachusetts Department of Housing and Community Development, accepted the award on behalf of Ms. Anthony, who could not attend because of illness. Mr. Morse and Ms. Racer expressed Amy's gratitude in receiving the award and her sadness in not being able to attend the event. They shared Ms. Anthony's great admiration for Cushing Dolbeare and her appreciation to NLIHC for this recognition in Cushing's name. 
NLIHC President and CEO Diane Yentel closed the reception, congratulating the honorees and thanking the many people and organizations who contributed to NLIHC in honor of Mr. Terwilliger and Ms. Anthony, making this NLIHC's most successful fundraising event yet.
NLIHC is grateful for the support of all of this year's Leadership Reception donors: a full list can be found at: http://nlihc.org/events/leadership