NLIHC presented 2021 Housing Leadership Awards to Senator Sherrod Brown (D-OH), chair of the Senate Banking, Housing, and Urban Affairs Committee; Representative Maxine Waters (D-CA), chair of the House Financial Services Committee; Joy Johnson, long-time resident leader of the Charlottesville Public Housing Association of Residents (PHAR) and former NLIHC board member; and the Housing Justice Network of the National Housing Law Project during NLIHC's 39th Annual Housing Leadership Awards Celebration, held virtually on Wednesday, April 28. NLIHC Board Chair Marla Newman, emcee of the celebration, presented the awards on behalf of the NLIHC Board, staff, and members.
Rep. Maxine Waters
A 2021 Edward W. Brooke Housing Leadership Award was presented to Representative Maxine Waters for her indispensable leadership fighting for equity and justice, combatting racism, championing the housing needs of the lowest-income people, and achieving critical housing and homelessness resources and protections during the pandemic. This award is named for Senator Edward Brooke (R-MA), who championed low-income housing as a U.S. senator and later as chair of the NLIHC board of directors. Dora Leong Gallo, 1st vice chair of NLIHC's Board of Directors thanked Chairwoman Waters for her decades of service and unparalleled leadership on housing and homelessness. In her acceptance speech, Chairwoman Waters emphasized the need now to achieve long-term affordable housing solutions like those in her landmark "Housing Is Infrastructure Act" and "Ending Homelessness Act."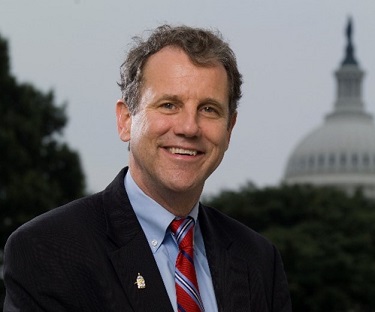 Sen. Sherrod Brown
Senator Sherrod Brown also received a 2021 Edward W. Brooke Housing Leadership Award for his many years of fighting for racial and social justice, voting rights, and affordable housing, and for his exceptional leadership in Congress to address to the housing and homelessness crisis during the coronavirus pandemic. Senator Brown's longtime friends and allies Barbara Poppe of Barbara Poppe & Associates and Bill Faith, executive director of the Coalition on Homelessness and Housing in Ohio and last year's Cushing Dolbeare Lifetime Service Award honoree, congratulated Senator Brown on receiving the award and thanked him for his leadership on social justice and affordable. In his acceptance speech, Chairman Brown congratulated his co-honoree Chairwoman Waters and promised that affordable housing would be central to the work of the Senate Banking, Housing and Urban Affairs Committee under his leadership.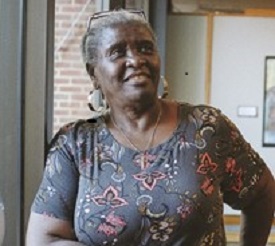 Joy Johnson
The Dolbeare Lifetime Service Award, named for NLIHC's founder Cushing Niles Dolbeare, a pioneer of the affordable housing movement, was awarded to Joy Johnson, who has served her community and the nation for decades as a public housing advocate, organizer, and activist-leader, improving the lives of low-income residents in Charlottesville, VA, and across the United States. Former NLIHC President and CEO Sheila Crowley congratulated Joy, describing her as a "housing justice warrior," a "force of nature," and the embodiment of Cushing Dolbeare's legacy. In her acceptance remarks, Joy described receiving the award as being "like a million dollars" and recognized all the people who contributed to her growth as a leader, particularly the late Cushing Dolbeare.      

The final award of the evening was presented to The National Housing Law Project's Housing Justice Network (HJN). HJN received the Sheila Crowley Housing Justice Award, named after former NLIHC President and CEO Sheila Crowley, for the Network's outstanding efforts for over forty years serving on the front lines to advance housing rights. In her congratulatory remarks, NLIHC President and CEO Diane Yentel noted that the Network's tireless work throughout the COVID-19 pandemic saved lives and kept countless families across the country safely housed. The award was accepted on behalf of HJN by Lisa D'Souza, staff attorney at Legal Services of Eastern Missouri, and Hannah Adams, staff attorney at Southeast Louisiana Legal Services, who both described the Network's invaluable support to them in their efforts to protect low-income renters during the pandemic.