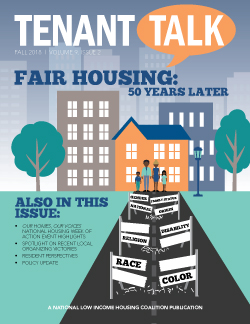 NLIHC's latest edition of Tenant Talk—a periodic publication aimed at engaging tenants on housing policy and highlighting local advocacy successes – is now available. The fall 2018 issue focuses on the 50th anniversary of the Fair Housing Act and local efforts to achieve housing justice. Access Tenant Talk: Fair Housing 50 Years Later online at: https://bit.ly/2O2ss18
This edition of Tenant Talk opens with a description of Dr. Martin Luther King's "Chicago Freedom Movement" of 1966 and its calls for housing justice. The publication also provides an overview of the Fair Housing Act and recent efforts to undermine the law, reviews fair housing "by the numbers" over the years and today, highlights disaster housing recovery efforts that have violated the Fair Housing Act, and shares the Southern Movement Blueprint for Action. Local advocacy efforts are also showcased in the latest edition, including a few of the many "Our Homes, Our Voices" National Housing Week of Action events that took place across the country in May.
Producing Tenant Talk is one of the many ways NLIHC advances our mission of achieving socially just public policy that ensures people with the lowest incomes in the U.S. have affordable, accessible, safe and decent homes. We hope you will find this issue useful as you advocate for tenants' rights and for expanding resources for affordable housing.   
Want to receive a free print-copy of Tenant Talk in the future? Sign up at: https://bit.ly/2OO47S2