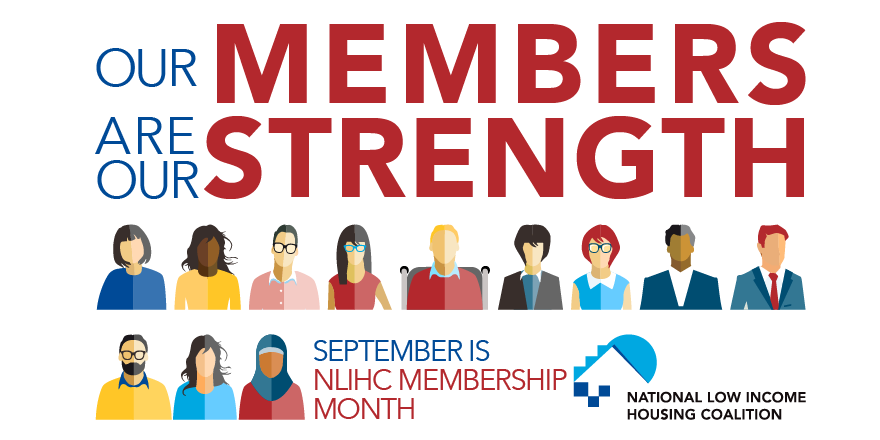 This is the final week of NLIHC's Membership Month. We welcome and thank our more than 60 new NLIHC members who joined us and our many existing members this month. Your membership is essential to helping NLIHC carry out our mission.
Not a member?
Please join NLIHC today and spread the word to others. Visit our Membership page at: http://nlihc.org/membership/nmm
The membership process is quick and easy. Join today and you will be eligible to win some great gifts in our final drawing on September 30. Up to 6 new members will win a package of an NLIHC t-shirt, tote bag, and water bottle, and one will a free three-night double room at the Washington Court Hotel for the 2017 NLIHC Policy Forum taking place in Washington DC April 2-4, 2017 (a $927 value).
Already a member?
For existing members, Membership Month is an opportunity to reaffirm your commitment to ending housing poverty and homelessness by encouraging your family members, friends, and colleagues to join NLIHC.
Here are a few ways you can help:
Recruit Others: Recommend NLIHC membership to your family, friends and colleagues. All new and renewing members during the month of September may be eligible to win some great gifts.
Change your Twitter and Facebook Background: Let everyone in your social media network know that you support NLIHC's work and that membership is important to you.
Show Your Support via Social Media:  Use our sample tweets and Facebook posts to encourage those in your social network to #JoinNLIHC.
To download membership graphics and to access sample social media messages visit: www.nlihc.org/membership/nmm
Should you need additional assistance, please contact NLIHC's Field team at: [email protected]