NLIHC released a special edition of Tenant Talk: A Response to the COVID-19 Pandemic – Shelter in Place Requires Shelter. The June 10 special edition of Tenant Talk, a publication dedicated to low-income residents and their allies, focuses on the unique challenges faced during the pandemic by low-income renters and people experiencing homelessness, including those in public and other assisted housing. The issue addresses how municipalities, states, and the federal government are responding or failing to respond, and how advocates are mobilizing for solutions.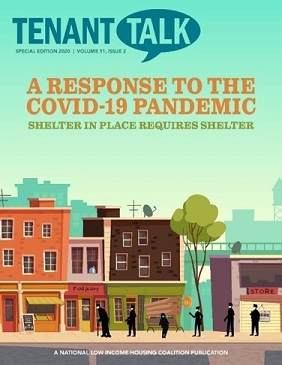 This issue of Tenant Talk delves into such issues as how people experiencing homelessness are at especially high risk for COVID-19 and the heath challenges with congregate shelters and how states are using hotels to deconcentrate shelters and homeless encampments. It also addresses how high unemployment is disproportionately impacting low-income people, especially low-income people of color. Additional topics include the increase in domestic violence during the pandemic and where victims can get help, and the impact of school and university closures; the impacts of COVID-19 on immigrants.
This edition also describes the housing and homelessness provisions and resources in the "CARES Act," how much more is needed, and how low-income advocates and their allies can take action to ensure the essential housing components of the House-passed "HEROES Act" are enacted.   
Tenant Talk is available online at: https://bit.ly/2XNZ0E8. If you would like to receive a free hard copy by mail, please fill out this quick and easy form to let us know how many copies you would like. Please share the form with others who might be interested.
We encourage all low-income residents and resident leaders to join NLIHC's regular Tenant Talk Live! webinars. Tenant Talk Live! provides opportunities for residents and resident leaders to connect with NLIHC and one another; share best practices; and learn how to be more involved in influencing federal housing policies and leading in their community. NLIHC is hosting these webinars every two weeks during the COVID pandemic and is focusing on resident actions in response to the crisis. The next session is on June 22 at 6 pm to 7:15 pm ET and will focus on racial equity in housing and homelessness. Register at: https://bit.ly/37rKOUw