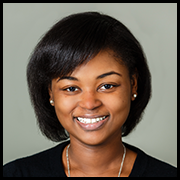 ​
NLIHC is pleased to welcome Mia Wilson as its newest communications specialist.  
Mia is responsible for supporting NLIHC's nonpartisan voter and candidate engagement project, Our Homes, Our Votes 2020. In addition to working on this project, Mia assists with other communications efforts such as compiling and publishing NLIHC's weekly e-newsletter Memo to Members and Partnersand assisting with media outreach, response, and tracking. As a member of the communications team, Mia will report to Vice President for Field and Communications Renee Willis. 
Born and raised in Washington, DC, Mia is a graduate of Howard University, where she earned her bachelor's degree in Communications. Prior to joining NLIHC, Mia worked for a strategic communications organization focused on advancing faith in the public square as a powerful force for justice. In this role, Mia was responsible for managing the organization's website and social media accounts, building relationships with local and national media, and providing general communications support. Before that, Mia worked for WJLA/ABC 7 News as a production assistant. Mia also held an internship with NBC News and served as a congressional intern. 
Please join us in welcoming Mia to the NLIHC team.