NLIHC is pleased to welcome Neetu Nair as the Coalition's newest research analyst. Neetu will help evaluate the effectiveness of state and local emergency rental assistance programs and other housing-related responses to the coronavirus pandemic and economic crisis.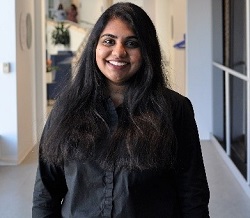 Neetu received her Master of Urban and Regional Planning degree at the University of Michigan, where she focused on housing justice and climate equity. Neetu has advocated for land rights, tenure security and housing stability for extremely low-income communities internationally. In Brazil, she assessed housing needs in favelas and informal settlements, and partnered with União dos Movimentos de Moradia, São Paulo (Union of Housing Movements, São Paulo) to advocate for a national legislation for self-managed housing. In the US, she supported third-sector organizations in accessing housing, healthcare and educational services for refugee and migrant communities. In previous roles, Neetu worked on housing and community development through co-designed spaces in India. Neetu earned a Bachelor of Architecture with a concentration in urban design from R.V. College of Architecture in Bangalore, India. 
Please join us in welcoming Neetu to the NLIHC team.