Our Homes, Our Voices National Housing Week of Action 2019 is taking place from May 30 to June 5, which is only six weeks away! Now is the perfect time to begin planning an event in your community.
Putting together a Week of Action event is simple. NLIHC provides "how-to" instructions on various types of events. These can include large scale rallies or art exhibits, or small events like film screenings or panel discussions. There are many ways for your community to be involved. For help planning your local event or to connect with organizers for resources, please contact anyone on NLIHC's Field Team.
Last year, more than 120 events were held across the country. Advocates engaged their members of Congress and their communities about the crucial importance of federal affordable housing and community development programs and explained why more investment in affordable homes is needed.
If you are considering organizing a Week of Action event but unsure of what is involved, there are several examples from 2018 that show what a strong event might look like. Below are some ways you can consider being involved for 2019.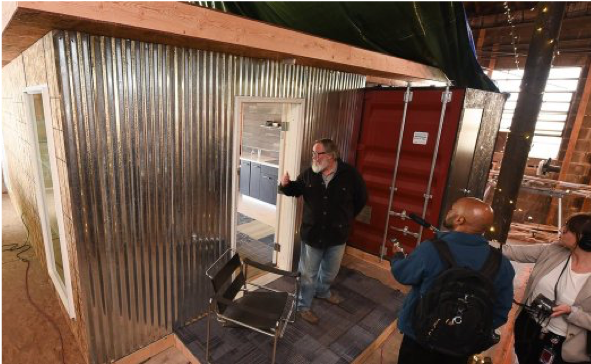 Courtesy of Utah Housing Coalition
Salt Lake City, UT – Members of the Utah Housing Coalition met to discuss affordable housing barriers in Utah and explored alternatives to conventional housing construction concepts, such as tiny homes and retrofitted shipping containers. Jeff White, co-owner of Makris White Real Estate, unveiled prototype designs of homes built, in part, by reusing shipping containers.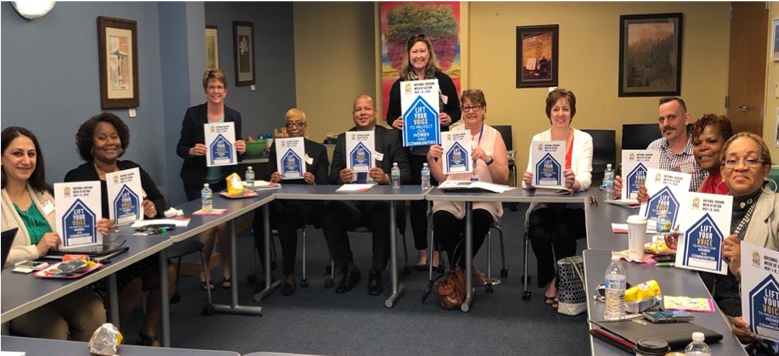 Courtesy of Prosperity Indiana
Hammond, ID – Prosperity Indiana network members, advocates in northwest Indiana, community partners, and concerned citizens met to share challenges and desired outcomes related to homelessness, affordable housing, and community development in the region. As a coalition, they devised a plan of action to achieve effective, comprehensive solutions.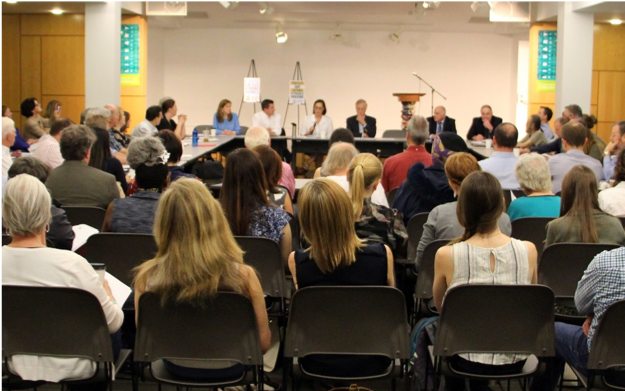 Courtesy of Maine Affordable Housing
Portland, ME – Members of the Maine Affordable Housing Coalition met with Senator Angus King to discuss the lack of affordable housing in Maine and across the country, and how Congress might help address it.
Annapolis, MD – Homes for America worked with Community Managers at Timothy House and Gardens to set up tables with voter registration forms. The registration table had envelopes and stamps so the forms could be returned to the Maryland Board of Elections.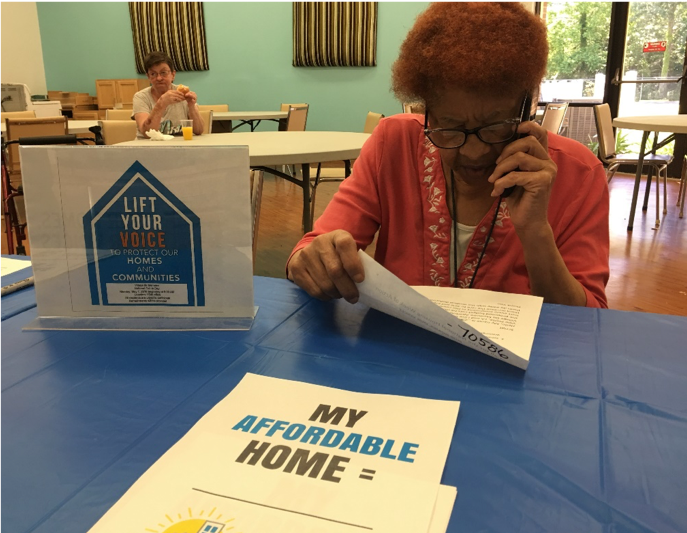 Elderly Housing Development & Operations Corporation at their property in Ville Platte, Louisiana
Ville Platte, LA – Village de Memoire Apartments, a rural housing development for seniors and people with disabilities managed by Elderly Housing Development & Operations Corporation (EHDOC), hosted a call-in day to federal elected officials for residents and community leaders.
Apple Valley, MN – Minnesota Housing Partnership, Metropolitan Interfaith Council on Affordable Housing (MICAH), and Coalition for Affordable Transitional Community Housing (CATCH) hosted a "Sold Out" film screening and community conversation with tenants, advocates, and community leaders about addressing the critical importance of preserving affordable housing. Produced by Twin Cities PBS, in partnership with local advocates, "Sold Out: Affordable Housing at Risk" reveals the price we all pay when families are pushed out of our communities by rising rents and apartment upscaling. This 2017 documentary provides first-hand accounts from numerous former residents of the Crossroads in Richfield, sharing the devastating impacts of being pushed from a place where some had resided for decades.
Philadelphia, PA – Project HOME, Women's Community Revitalization Project (WCRP), and Philadelphia Association of Community Development Organizations (PACDC) planned and hosted an in-person legislative call-in day on May 2, 2019. They organized the call-in day by arranging different participation stations throughout a community room at Project HOME's headquarters. Attendees received swag for showing up to the event, were prepped by Project HOME and WCRP staff, looked up their legislators on computers provided by Project HOME, made phone calls to their state and federal legislators, took selfie pictures using a selfie frame, received food, and then reported out the content of the calls on a white board. Attendees and staff made 60 calls to their elected officials that day.
Fairbanks, AK – The Fairbanks Housing & Homeless Coalition (FHHC) hosted a community conversation about homelessness and social services in interior Alaska. The discussion consisted of a brief overview of the statistical analysis of housing and homelessness in and around Fairbanks and was followed by testimony from a variety of agencies about their programs, including testimony from low-income households who have benefited. Additionally, numerous local agencies had outreach tables set up to provide more in-depth information about their services.
Dover, DE – The Housing Alliance of Delaware organized a program of presentations from local, statewide, and federal housing advocates and government officials for their 2018 Day for Housing. Delaware State Housing Authority Director Anas Ben Addi delivered a keynote address and shared lunch with attendees. The program was followed by lobbying at the State Capitol.
Register your event for Our Homes, Our Voices National Housing Week of Action today by filling out the form on our events page.