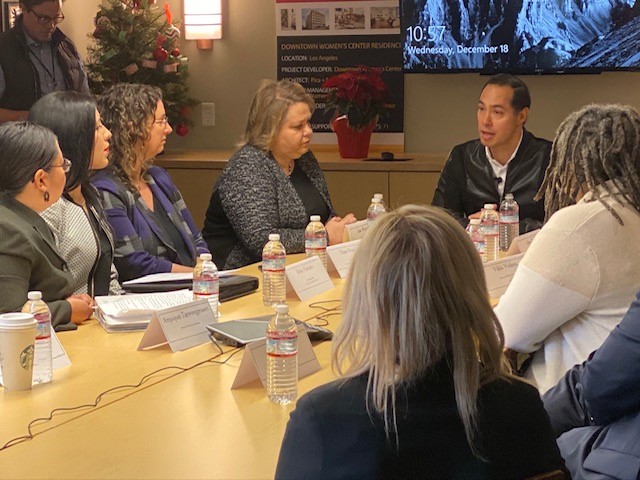 NLIHC's president and CEO Diane Yentel joined former HUD Secretary Julián Castro for an Our Homes, Our Votes: 2020 tour of Skid Row in Los Angeles on Wednesday, December 18. The tour was organized with partners from the Downtown Women's Center, Homeless Health Care Los Angeles, the Inner City Law Center, and Mayors & CEOs for U.S. Housing Investment. Suzette Shaw, a Skid Row resident and activist, led the tour.
During the Skid Row visit, the former HUD Secretary walked through the neighborhood, spoke with residents, and visited the ReFresh Spot, a community-driven project that provides residents access to a restroom, shower, and laundry facilities. After the walk, Secretary Castro joined advocates and residents of Skid Row for a policy conversation at the Downtown Women's Center. The conversation focused on the challenges facing people experiencing homelessness, and on the federal response needed.
Secretary Castro, as well as a majority of the 2020 presidential candidates, has released a robust proposal to address affordable housing and homelessness. Our Homes, Our Votes: 2020 is tracking what all 2020 presidential candidates say on the issue. For more information on the candidates' plans, visit our candidate tracker, which has fact sheets on each 2020 presidential candidates' proposals as well as videos, pictures, and other information.
More about Our Homes, Our Votes: 2020 is at: https://bit.ly/36OXN1h