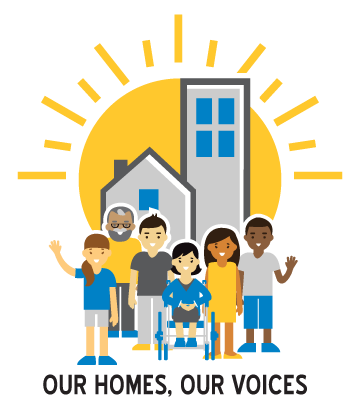 More than 50 local events and activities will take place across the country this week during the Our Homes, Our Voices National Housing Week of Action.  
Our momentum is growing and the clear message we send to elected officials on Capitol Hill this week will be heard: we must invest in affordable homes and strong communities, and we will not accept cuts to funding for critical federal housing programs. Not when only one in four eligible households receives federal housing assistance. Not when there is a nationwide shortage of 7.4 million rental homes affordable and available for the lowest income households. Not when 8.1 million extremely low incomes households spend more than 50% of their incomes on housing costs.
Join us and make your voice heard! Partner organizations are leading events this week in Arizona, California, Colorado, Connecticut, DC, Florida, Illinois, Iowa, Kentucky, Louisiana, Maryland, Massachusetts, Michigan, Minnesota, Missouri, Nevada, New Jersey, New Mexico, New York, Pennsylvania, Rhode Island, Tennessee, Texas, Virginia, Washington, and Wisconsin.
Are you planning an event that we don't have listed? Email us and tell us about it so we can lift up your work and help you spread the word!
If there is not an event taking place in your community, check out our list of national events for more ways to get involved. And stay tuned for more updates as the week unfolds – #OurHomesOurVoices has only just begun!