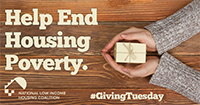 Thanksgiving and #GivingTuesday are around the corner. We at the NLIHC are so thankful for you, our members, supporters, partners and allies. Now, more than ever, we need your support! Your donation supports our research, advocacy, organizing and education to advance housing solutions for the poorest families. Please participate in NLIHC's giving challenge on #GivingTuesday, November 29.
In addition to making a donation on #GivingTuesday, we encourage you to:
Tweet out why you are giving to NLIHC, and include a picture if you can;
Post to your Instagram, Facebook and Twitter accounts; and
Use the hashtags #GivingTuesday and #NLIHC and tag @NLIHC!
Together, we can end homelessness and housing poverty.