The Opportunity Starts at Home campaign continues its three-part webinar series entitled "Building Multi-Sector Partnerships to Advance Housing Policy," with the second webinar on August 24 from 2-3 pm ET. This webinar series explores the opportunities, challenges, and best practices of building multi-sector coalitions to advance policy, featuring speakers from leading national and state organizations from many fields of work. 
The second session, "Best Practices to Building Multi-Sector Partnerships on the State Level," will feature:  
Chantelle Wilkinson, national campaign manager, Opportunity Starts at Home
Gina Wilt, advocacy director, Coalition on Homelessness and Housing in Ohio
Kendra Knighten, policy associate, Idaho Asset Building Network
Tara Rollins, executive director, Utah Housing Coalition
Sharon Barker, vice president and COO, Housing and Community Development Network of New Jersey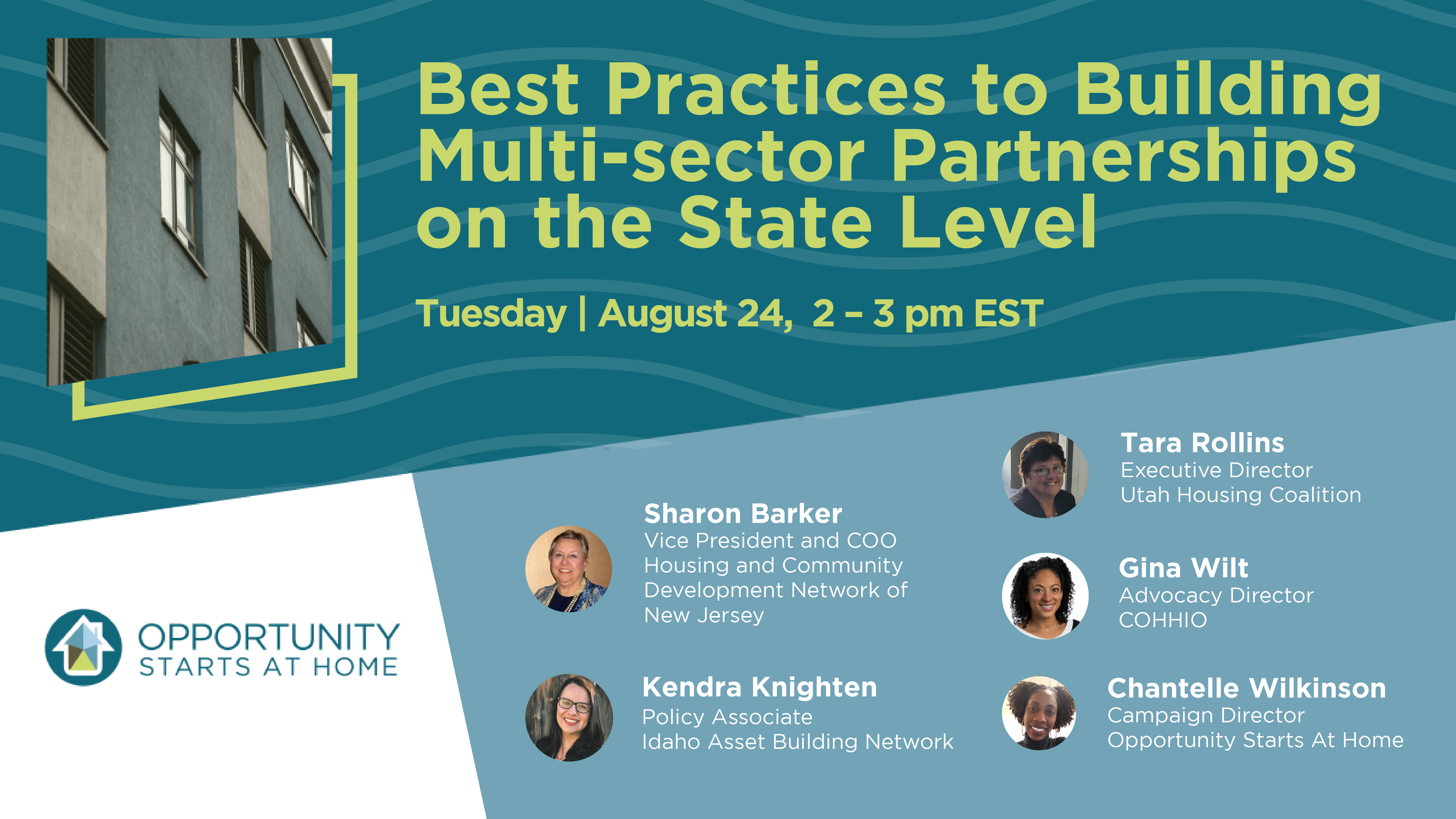 Through the Opportunity Starts at Home campaign, leading national organizations from an array of sectors are pushing Congress to act on more robust and equitable housing policies. Even before the pandemic, America was in the grips of an affordable housing crisis, most severely impacting the most marginalized and lowest-income people. Advocates from health, education, racial equity, food security, environmental protection, economic mobility, domestic violence, social work, faith, and more are recognizing that affordable homes are inextricably linked to their own priorities and concerns.
As Congress debates infrastructure and recovery packages, we have an historic opportunity to advance bold housing solutions. These solutions are more likely to come to fruition when multi-sector coalitions are leading the way, as opposed to housing advocates alone. 
The webinar is open to the public. Please register and help spread the word. Learn more about the event and register here.   
Watch part one here.
To stay up-to-date on Opportunity Starts at Home, follow us on social media: Twitter, Instagram, Facebook, and LinkedIn