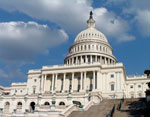 The National Fair Housing Alliance is circulating a sign-on letter opposing an amendment proposed by Representative Steve Stivers (R-OH) that would shift funding away from private fair housing enforcement in the FY18 Transportation-HUD (THUD) spending bill.
The letter states that in 2016 nonprofit organizations funded by the Fair Housing Initiatives Program's (FHIP) Private Enforcement Initiatives (PEI) grants "investigated 70 percent of reported complaints, more than double the number of complaints investigated by local, state, and federal government agencies combined." Funds are already available to state and local agencies through the Fair Housing Assistance Program (FHAP).
The House Rules Committee will decide later this week whether Mr. Stivers will be permitted to offer his amendment during House debate of the FY18 spending package, which includes the THUD bill.
Read and sign onto the letter at: http://bit.ly/2gpoO2P