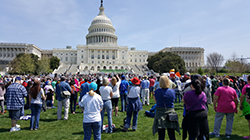 Thousands gather to hear speakers rally support for equitable tax reform and tax transparency of public officials.
In Washington, DC and more than 200 other cities, advocates held marches and rallies on April 15 calling for transparency and economic fairness in the federal tax code. NLIHC and the United for Homes (UFH) campaign participated in the marches as an official partner.
Senator Ron Wyden (D-OR) and Representatives Maxine Waters (D-CA) and Jamie Raskin (D-MD) spoke at the event in DC. They were joined by Heather McGhee from Demos, Bishop Dwayne Royster from PICO National Network, and Sister Simone Campbell from NETWORK Lobby for Catholic Social Justice. An estimated 25,000 people attended the event in Washington, DC, and the marches received widespread news coverage.
The events sent a bold message to President Trump and Congress: everyone must pay their fair share in taxes, Mr. Trump must release his tax returns, and the nation needs a tax system that promotes economic fairness, including a just housing policy.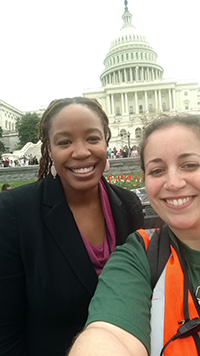 Demos President Heather McGhee & NLIHC Vice President of Public Policy Sarah Mickelson.
NLIHC joined the marches because economic and tax fairness are key principles of the UFH campaign, which calls for modest reforms to the mortgage interest deduction – a $70 billion tax write-off that largely benefits high income households – to better serve low and moderate income homeowners and to reinvest the savings into providing affordable rental homes to people with the greatest needs.