Republicans leaders are working to resolve the differences between the House- and Senate-passed versions of tax reform legislation, and the conference committee formally meets on Wednesday, December 13.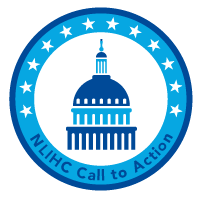 A final bill is expected to go before each chamber for a vote next week before Congress adjourns for the Christmas break. Contact your members of Congress today and tell them to vote no on any tax reform legislation that would explode the debt by giving hundreds of billions of dollars in tax cuts to the wealthy, worsen our nation's affordable housing crisis, and jeopardize disaster housing recovery.
NLIHC delivered two letters to the conference committee outlining its strong concerns about how the tax reform legislation could increase the severity of the affordable rental housing crisis and undermine disaster recovery efforts. If enacted, tax reform could eliminate or weaken key tools used by states and local governments to build and preserve affordable rental housing, including private activity bonds, the Low Income Housing Tax Credit, the national Housing Trust Fund, and federal programs administered by HUD and USDA. These tools are critical when rebuilding after devastating disasters like those wrought by Hurricanes Harvey, Irma, and Maria and the California wildfires.  In addition, both the House and the Senate bills would increase the debt by more than $1 trillion over ten years to give massive tax cuts to millionaires, billionaires, and corporations, draining vital resources needed for disaster recovery, affordable housing, and other vital programs for the poor.
The conference committee will need to resolve outstanding issues related to health care legislation, "pass-through" business income, the child tax credit, the state and local tax deduction, and the number and levels of tax brackets.      
Members of the conference committee include Senators Orrin Hatch (R-UT), Mike Enzi (R-WY), Lisa Murkowski (R-AK), John Cornyn (R-TX),  John Thune (R-SD), Rob Portman (R-OH), Tim Scott (R-SC), Pat Toomey (R-PA), Ron Wyden (D-OR), Bernie Sanders (I-VT), Patty Murray (D-WA), Maria Cantwell (D-WA), Debbie Stabenow (D-MI), Robert Menendez (D-NJ), and Tom Carper (D-DE), and Representatives Kevin Brady (R-TX), Peter Roskam (R-IL), Devin Nunes (R-CA), Diane Black (R-TN), Kristi Noem (R-SD), Rob Bishop (R-UT), Don Young (R-AK), Greg Walden (R-OR), John Shimkus (R-IL), Richard Neal (D-MA), Sander Levin (D-MI), Lloyd Doggett (D-TX), Raul Grijalva D-AZ), and Kathy Castor (D-FL).
Contact your members of Congress today and urge them to vote no on any tax reform bill that would worsen the nation's affordable housing crisis and jeopardize disaster housing recovery. 
Read NLIHC's letter to the conference committee on the impact of tax reform on the affordable rental housing crisis at: http://bit.ly/2C0YdD4
Read the NLIHC-led Disaster Housing Recovery Coalition's letter on tax reform at: http://bit.ly/2C4pqVg