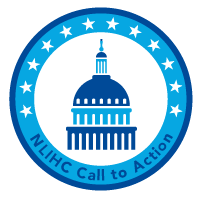 Please call your representatives today and urge them to vote "no" on the House Farm Bill (H.R. 2), which would cut Supplemental Nutrition Assistance Program (SNAP) benefits (formerly food stamps) through funding cuts, stricter work requirements, and bureaucratic hurdles for millions of low income people who struggle to put food on their tables.
The House rejected the Farm Bill on May 18, but Republican leaders now believe they may have enough votes to pass the bill.
Take Action
It is critical that housing advocates call their representatives and urge them to oppose any Farm Bill that cuts SNAP benefits for millions of the lowest income people. Your calls can make the difference.
To contact your representative, call the congressional switchboard toll free at 202-224-3121. When you call, you can use the following script to guide your advocacy:
"Hello, my name is _____ and I live in [city, zip]. I'm calling to urge Representative ___ to oppose the Farm Bill. This latest attempt to cut SNAP benefits will take nutrition assistance away from millions of families, including many people who are already struggling to meet other basic needs, like paying the rent, or who are experiencing homelessness. Please vote 'no' on any Farm Bill that would increase food insecurity and hardship for the millions of people receiving SNAP benefits."
Background
SNAP is America's most effective anti-hunger program, helping 1 in 8 Americans – including 20 million children - afford groceries. If enacted, H.R. 2 would increase food insecurity for millions of families.
The SNAP program already imposes work requirements and allows states to apply further conditions for assistance. The House Farm Bill would create an even stricter policy with additional bureaucratic hurdles aimed at further restricting the number of families that can receive food assistance.
Under the bill, SNAP recipients would have to prove each month that they worked, participated in a work training program for at least 20 hours a week, or qualified for an exemption. This requirement would leave workers who lack sick leave, caregivers, and people with disabilities at risk of losing their SNAP assistance. Families already struggling to make ends meet would have even fewer resources to meet their other basic needs, including housing.
Thank you for your advocacy!