The Virginia Housing Alliance (VHA/Alliance), an NLIHC state partner, joined with the Virginia Association of Housing and Community Development Officials (VAHCDO), on March 28 for the Alliance's largest Federal Housing Day ever. The two groups brought more than 50 advocates to Washington DC to meet with their members of Congress and push for reforms to and funding increases for federal housing programs. They protested the attack on affordable housing programs in President Donald Trump's FY18 budget, advocated for preserving and expanding the Low Income Housing Tax Credit (LIHTC), and encouraged their Congressional delegations to defend the national Housing Trust Fund (HTF) and the Affirmatively Furthering Fair Housing (AFFH) rule.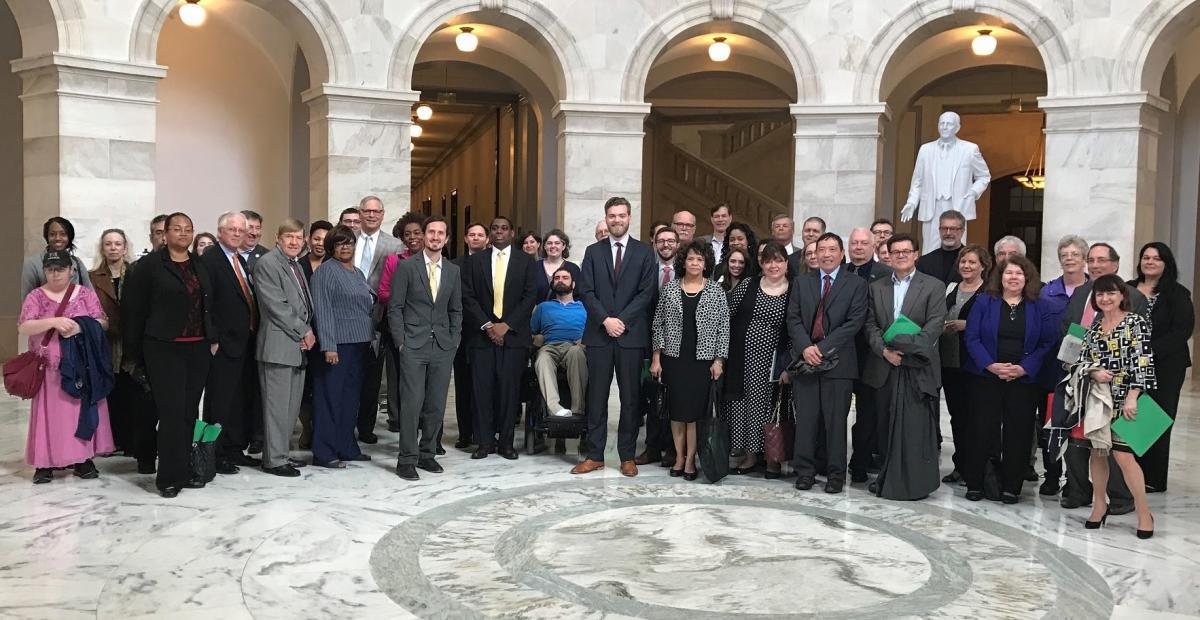 Virginia Advocates at the U.S. Capitol
The 2017 Federal Housing Day began with a meeting with the staffs of Senators Tim Kaine (D-VA) and Mark Warner (D-VA). The staffers welcomed the group to Washington and listened to their appeals for increased investments in affordable housing. Later in the day, the group visited their representatives in eleven House offices. They shared the Alliance's congressional district housing profiles, which pull data from the NLIHC district profiles and include information about public housing, vouchers, USDA-Rural Development affordable housing, and the impact of Community Development Block Grants and the HOME program in each district. Advocates also shared the Alliance's LIHTC district profiles that provide LIHTC economic impacts and project information in each district. In meeting follow-ups, advocates got several members to sign onto many of the FY18 House and Senate Dear Colleague letters related to housing and community development.
Advocates' policy priorities centered on expanding access to affordable homes for those who need them most. Advocates highlighted the devastating impact President Trump's budget cuts, which included a $6.2 billion cut to the FY18 HUD budget from FY16 levels, would have on households who depend on federal assistance. They encouraged their members of Congress to instead raise the budget caps put in place by the 2011 "Budget Control Act," while maintaining parity between defense and non-defense spending. Advocates also encouraged their members of Congress to use tax reform as a vehicle to expand federal housing assistance. They praised the "Affordable Housing Credit Improvement Act," in both its House (HR 1661) and Senate (S. 548) versions, highlighting the importance of LIHTC as well as the need to expand and reform the program. The group discussed the possible positive implications tax reform could have for affordable housing, including using the savings from reforms to the mortgage interest deduction to increase funding for vital affordable housing programs, like the national Housing Trust Fund and vouchers, as proposed in the "Common Sense Housing Investment Act" (HR 948) and the United for Homes campaign. Advocates also urged their Congressional delegations to protect funding for legal aid, the Low Income Home Energy Assistance Program (LIHEAP) and weatherization, and the Corporation for National and Community Service that includes AmeriCorps.
The meetings provided advocates with opportunities to educate their members of Congress about the growing challenges low income Virginians face finding affordable and accessible housing. They emphasized the cost-saving and lifesaving impacts of federal housing programs and the need to defend housing programs from budget cuts. By joining together, VAHCDO and VHA amplified their call for increased investments to make homes affordable for all.
"By combining forces with VAHCDO this year and including better representation of those served by federal housing programs than in years past, we had a strong physical presence in DC that got us more attention from staffers and more face time with members," said VHA Director of Policy Zack Miller. "Attendees from across the state were better able to communicate the impacts that the President's proposed budget would have in their districts.
For more information, contact Zack Miller at: [email protected]. To view VHA's congressional district profiles and other materials, see: http://bit.ly/2obP3MM