Deadline Extended to Feb. 29 to Sign Letter Supporting THUD Funding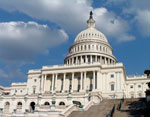 Advocates for transportation, housing, community development, and ending homelessness are working together to urge Congress to provide the highest possible funding for the Transportation, Housing and Urban Development, and Related Agencies (THUD) Appropriations Subcommittees. The deadline for organizations to sign the letter has been extended to February 29. NLIHC encourages all our member organization to sign on to the letter at http://nlihc.org/issues/budget/302b.
Congress will soon decide how to divide its available spending for FY2017 among the 12 appropriations subcommittees. These funding allocations for subcommittees, called 302(b) allocations, will determine how much funding is available for HUD programs in FY17.
It is critical that both THUD Subcommittees receive the highest possible 302(b) allocations. Adequate 302(b) allocations will help the Subcommittees have the resources they need to fund the homeless, affordable housing and community development programs at levels that exceed current spending.
To view the letter to the House and Senate Chairs and Ranking Members of the Appropriations Committees, visit: http://nlihc.org/sites/default/files/THUD_302b-sign-on-letter_2016.pdf
To sign your organization onto the letter go to: http://nlihc.org/issues/budget/302b.
Email outreach@nlihc.org with any questions.