House Committee Holds Hearing on Alternative Approaches to Federal Budgeting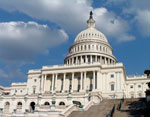 The House Budget Committee held a hearing on July 6 to discuss possible ways to reform the federal budget process. Committee Chair Tom Price (R-GA) opened the hearing by describing the dysfunction he perceived in the current federal budgeting process, noting that a debate over budgeting reforms necessitated a willingness to "uproot the conventional." The hearing included a discussion of the merits of different models, including portfolio budgeting and "zero base" budgeting.
Dr. F. Stevens Redburn of the George Washington University Trachtenburg School of Public Policy and Public Administration advocated for reforms to the budget process that would incorporate elements of a portfolio model. Dr. Redburn expressed that the current budgetary process is incremental, poorly organized around overall policy goals, and often blind to shifts in the economy, and that it lacks long-term perspective. Dr. Redburn explained that a portfolio approach would plan programmatic funding by examining the goals and long-term impacts of programs working in tandem rather than in silos.   
Maurice McTigue of the Mercatus Center at George Mason University expressed that a successful budget process would be one "moving away from funding an activity or program and instead focusing on funding the outcome desired by the government." Scott Lilly of the Center for American Progress cautioned against a purely results-oriented approach as some valuable federally funded programs do not produce easy-to-measure results.
Mr. Lilly agreed with Mr. McTigue and others that the federal "budget process is in serious disarray." He expressed, however, that the problem lay more in the failure of Congress to dedicate appropriate time to debate and discuss the budget than with failures of the executive branch. Representative Bill Pascrell (D-NJ) added that he fundamentally disagreed "that changing budget process is going to solve . . . our budget problem. . . .  At the end of the day, a budget is a blueprint of our values, and if we disagree on those values, we need to debate them. No amount of process is going to solve this stalemate."
Mr. Pascrell added that an investment in our nation's most vulnerable should be a federal budget priority. He advocated prioritizing programs like the Supplemental Nutritional Assistance Program and educational Pell grants, as well as investments in infrastructure.  
Watch the full hearing at: http://bit.ly/29kcU9O