National Events Include Rally, Twitter Storm, Call-in Day, and Voter Registration Drive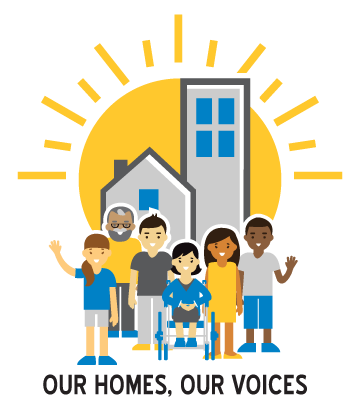 The "Our Homes, Our Voices" National Housing Week of Action announces a series of national events for the week of July 22-29.  They include:
Wednesday, July 26, 11:15 am ET: Rally on Capitol Hill
NLIHC President and CEO Diane Yentel will lead a rally at the U.S. Capitol, July 26, 11:15 am in support of affordable housing. Invited guest speakers include National Alliance to End Homelessness President and CEO Nan Roman, Representative Barbara Lee (D-CA), and other affordable housing advocates. For more information, email Sarah Jemison at: sjemison@nlihc.org 
Wednesday, July 26, 2 pm ET: National Twitterstorm
Join us on July 26 at 2 pm ET for a national Twitterstorm. Use #OurHomesOurVoices to link your tweets to our national call for increased investments in affordable homes. By engaging on Twitter at the same time, we will draw the attention of members of Congress to the affordable housing crisis and the Our Homes, Our Voices campaign.
For sample tweets and images, see the campaign resources page, or visit this link to easily tweet to your members of Congress.
Thursday, July 27: National Call-In Day
On July 27, advocates around the country will call their members of Congress to voice their support for programs that make homes affordable for those in need and strengthen communities. Use the script available on our resources page or visit this link for talking points to for your calls. (Please note that this event has been changed from its original date on July 25)
Friday, July 28: Launch of "Our Homes, Our Votes" Voter Registration Effort
We will finish the National Housing Week of Action with voter registration efforts in communities throughout the country. Public housing agencies and representatives at other subsidized housing properties will be providing voter registration forms and information in community rooms and offices. Get more information about the July 28 voter registration drive and access new resources: here.