---
President Obama Signs "Housing Opportunity Through Modernization Act"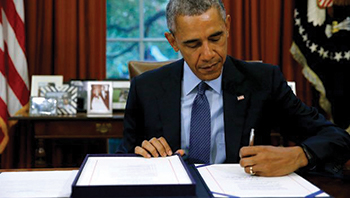 President Barack Obama signs the Housing Opportunity
Through Modernization Act.
On July 29, President Obama signed into law the "Housing Opportunity Through Modernization Act" (HOTMA). The law contains several common sense changes in how HUD administers Housing Choice Vouchers, Section 8 Project-Based Rental Assistance, and public housing. Both the Senate and House of Representatives voted unanimously to pass the bill and adopt these changes.
Some key elements of HOTMA:
Changes income reviews to allow residents to hold onto 100% of increased earnings for longer periods of time because rents will be set based on prior year income levels.
Imposes housing assistance limits for households with incomes above 120% of the poverty level.
Allows for expedited inspections to quicken the approval of rental homes for Housing Choice Voucher holders.
Allows public housing agencies (PHAs) to increase the number of vouchers that are "project-based" to provide more housing options for people with low incomes. 
"These are common sense reforms, yes, but the passage of HOTMA shows that persistent discussion, organizing, and lobbying can lead to change."
HOTMA also ensures PHAs must meet certain minimum standards when providing heat to residents. Representatives Grace Meng (D-NY) and Eliot Engel (D-NY) successfully added this provision to the bill as an amendment. This will hopefully prevent practices like those experienced recently in New York City where the PHA would often turn boilers off overnight unless the outside temperature dipped below 25 degrees.
The passage of HOTMA is the result of years of advocacy; most of the bill's provisions have been included in earlier proposals going back nearly a decade. These are common sense reforms, yes, but the passage of HOTMA shows that persistent discussion, organizing, and lobbying can lead to change.
For more information about HOTMA, visit www.bit.ly/NLIHC3700.
---
Housing Matters in Criminal Justice Reform
Over the past year, NLIHC has increasingly worked to raise the issue of affordable housing in the national conversation on criminal justice reform. Federal and state lawmakers are beginning to rethink and amend policies that led to unnecessary incarceration for minor or non-violent offenses. 
With many formerly incarcerated individuals returning to their communities, there is growing concern about how they will fare upon reentry. Individuals with past involvement in the justice system face significant barriers to accessing both housing and employment, putting them at risk of becoming homeless or recidivating. For this reason, affordable housing solutions must be part of criminal justice reform. 
NLIHC is working to support passage of the "Fair Chance at Housing Act" (H.R. 5085). The bill was introduced by Representative Maxine Waters (D-CA) and would reform various HUD policies that provide broad discretion to owners of HUD-assisted housing, including public housing authorities, to screen out or evict people based on criminal involvement. 
The bill builds on recent HUD guidance that makes it clear that the Fair Housing Act applies to the use of criminal records by housing providers when determining whether to deny admission, evict, or terminate assistance. This is the case for all housing providers, not just those who receive federal funds. Secretary Julián Castro announced the initial steps HUD was taking on this issue at NLIHC's annual policy forum in April. Mr. Castro stated that housing providers that use blanket bans to screen out people with criminal records may be violating the fair housing law.
Housing in criminal justice reform is a growing part of NLIHC's policy work on affordable housing, and it will be a featured topic in a 2017 issue of Tenant Talk. For more information, visit www.bit.ly/NLIHCcjr.
---
National Housing Trust Fund Update: States Are Receiving the First Trust Fund Dollars!
All fifty states plus the District of Columbia have now completed their first-ever allocation plans for how they will be spending their first round of national Housing Trust Fund (HTF) dollars. HUD is distributing the funds throughout the fall.
This is a big victory for advocates who have worked for more than 15 years to create this new resource to develop, preserve, rehabilitate, and operate affordable rental housing. The HTF is the first new housing production program in a generation targeted to extremely low-income (ELI) households.
The next phase of advocacy will involve the 2017 allocation plans that states will be working on in the coming months. This will be an opportunity to improve on shortcomings identified in each state's initial plan. Advocates should continue to push for plans that include income-based or deeply affordable rent setting, permanent affordability, and a preference for mission-driven nonprofit developers.
The 2016 allocation of $174.4 million is a modest step toward addressing the shortage of affordable and available rental homes for people with the greatest needs. A bigger impact will be realized when the HTF is expanded with a more robust funding source. NLIHC is working toward finding more money for the HTF through housing finance reform—changes to Fannie Mae and Freddie Mac—and through the United for Homes campaign, which proposes changes to the mortgage interest deduction in the tax code—visit www.unitedforhomes.org for more information on the campaign.
---
HUD Proposes Small Area Fair Market Rents in 31 Metro Areas
"Because SAFMRs would be based on rents in a ZIP Code, in low-cost neighborhoods where most voucher households now live, SAFMRs would be less than regular FMRs and payment standards would decline."
HUD proposed a rule to require use of Small Area Fair Market Rents (Small Area FMRs or SAFMRs) by public housing agencies (PHAs) in 31 metro areas that have high concentrations of vouchers in low income ZIP Codes. The intent is to deconcentrate vouchers and help voucher households use a voucher in neighborhoods with better schools and amenities and less crime.
A voucher pays the difference between 30% of a household's income and the voucher "payment standard," which a PHA can set between 90% and 110% of the fair market rent (FMR). There is only one FMR in a metro area, and it is based on rents throughout the entire metro area, which usually has many counties. As a result, the value of a voucher is generally not high enough to match rents landlords get in higher-cost neighborhoods where rents could be 120% of the FMR or higher. Small Area FMRs would reflect rents in a ZIP Code, so a voucher payment standard in a higher-cost neighborhood would be greater and might match rents landlords get in that ZIP Code.
NLIHC long advocated for SAFMRs as one means to help expand housing choice for voucher households. However, there were a few problems with HUD's proposed rule.
Because SAFMRs would be based on rents in a ZIP Code, in low-cost neighborhoods where most voucher households now live, SAFMRs would be less than regular FMRs and payment standards would decline. Landlords of households currently using a voucher would probably not lower the rent. Assuming most voucher households would not want to move from their home and neighborhood, they would have to pay more for rent, sometimes far more than the standard of 30% of their income.
Even if some voucher households reluctantly decided to move to avoid being rent-burdened, the higher SAFMR payment standard might not be high enough to meet rents many landlords already get in higher-cost areas. Also, many landlords refuse to rent to households with vouchers, so even with a more valuable SAFMR voucher a household might not be able to find a place to rent.
To prevent harm to households currently relying on a voucher, NLIHC recommends that the final rule exclude current voucher households from any reduction in the payment standard as a result of the transition to SAFMRs.
NLIHC is also concerned that many landlords would leave the voucher program where SAFMR payment standards in low-rent neighborhoods sharply decline. This would have a harmful impact on future households, as well as on those using vouchers. In tight rental markets, especially in gentrifying areas, landlords might be able to get the rents they want without vouchers and without having to comply with voucher program requirements. 
To prevent landlords from leaving the voucher program and reducing the stock of rental homes available to future and current voucher households, NLIHC recommends that the final rule slowly reduce how far SAFMRs could fall below current metro FMRs. For example, for the first year SAFMRs should be set no lower than 95% of the metro FMR, then no lower than 90% the second year, and so on in 5% steps.
HUD proposed a formula to determine which metro areas would have to use SAFMRs. That formula included several metro areas, such as New York City and Oakland, California, that have very tight rental markets with few apartments voucher households could move to, even with a higher-value SAFMR. NLIHC recommends that any metro area with a vacancy rate of 5% or less be able to choose not to use SAFMRs.
To see NLIHC's full comments, visit www.bit.ly/SAFMR
---
Federal Budget Update: Congress Fails to Pass a Budget Before Elections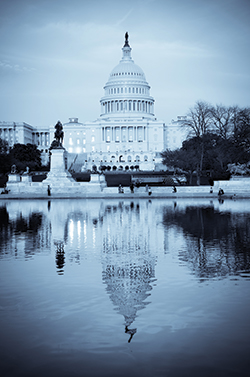 Congressional negotiations on spending to support federal programs ground to a halt over the summer. Lawmakers failed to pass any funding bills, including the Transportation and HUD spending bill that is needed to expand and maintain affordable housing and supportive services. Programs funded through these bills include Housing Choice Vouchers (Section 8), Community Development Block Grants, the HOME program, Homeless Assistance Grants, public housing and many others.
Congress has until the beginning of October to pass a budget, and they almost certainly will miss that deadline. They will instead pass a continuing resolution (CR) to carry over funding levels from fiscal year 2016. At the time this publication goes to print, it is not yet known if the CR will be for a relatively short period of time through just the election, or a more long-term CR that some conservative Representatives prefer. A long-term CR could cause thousands of families to lose stable housing. In order to renew housing assistance contracts and maintain current services, HUD would need more than $1 billion in additional funding for 2017. Flat funding through a CR for an extended period would lead to a serious cut in much-needed services.
Both the House and Senate HUD spending bills contain expansions of funding for both affordable housing and community development programs. Please contact your Members of Congress and encourage them to pass a full budget bill as soon as possible and to oppose any long-term CR.
TAKE ACTION!
Make your voice heard by contacting your Members of Congress by phone or email. For more information on how to be involved on these and other issues, see NLIHC's election season Advocacy Guide online here: www.bit.ly/summervoterguide.