Tenant Talk Now Available!
NLIHC released on November 17 the fall 2017 edition of Tenant Talk, a semi-annual newsletter created to engage residents in housing advocacy and to highlight innovative approaches and recent victories in communities throughout the U.S.  The fall Tenant Talk is now available online and you can sign up to have it delivered to your door for free.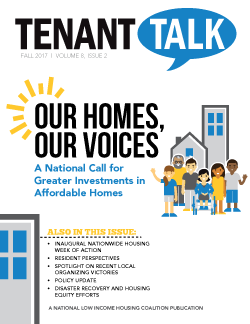 This issue of Tenant Talk explores how resident organizations are taking action to raise the profile of the affordable housing movement and how residents in communities across the country engaged with the Our Homes, Our Voices National Housing Week of Action in July 2017. This edition features resident organizing efforts, including those that succeeded in securing passage of new protections for low income residents facing eviction in New York City and a Seattle campaign to make housing more accessible for individuals who have been involved with the criminal justice system. This Tenant Talk also covers key policy updates on the federal budget and delays in implementing Small Area Fair Market Rents, and it describes new projects funded through the national Housing Trust Fund and the ways the recent natural disasters are impacting residents in Texas, Florida, Puerto Rico, the U.S. Virgin Islands, and California. Download Tenant Talk today!