March 2, 2015
FOR IMMEDIATE RELEASE
National Low Income Housing Coalition Presents 2015 Media, State and Local Organizing, and Resident Organizing Awards
CONTACT:  Christine Campbell, [email protected] 347-866-2320
WASHINGTON, D.C.- The National Low Income Housing Coalition, a nonprofit research and advocacy organization, presented their annual Media, State and Local Organizing, and Resident Organizing awards yesterday as part of their 2015 Housing Legislative Forum.  
NLIHC's Annual Housing Media Award is presented annually to journalists who make a special contribution to highlighting housing inequities of the lowest income people in America. The 2015 award was presented to journalists Mikel Livingston and Steven Porter for their series, "The Great Chicago Migration Myth," published in the Lafayette Journal & Courier during October and November 2014.
"The Great Chicago Migration Myth" analyzes a long-held belief in Lafayette, IN that thousands of low income black families, after receiving housing vouchers as a result of the demolition of public housing in Chicago beginning in 1999, packed up their belongings and migrated to Lafayette, bringing with them increased crime, drug use, and burdens on local social services. Livingston's and Porter's series show that there is no substantive evidence that such a migration occurred, that the data demonstrate that most former public housing residents stayed in Chicago, and that beliefs about a migration are founded on racial and social fears and prejudice. "This was not an advocacy piece, it was an education piece," said Mikel Livingston. "We wanted to get the data out there and get people talking. It's a continuing dialogue," added Steven Livingston. The series, "The Great Chicago Migration Myth," can be found at: http://www.jconline.com/story/news/2014/10/17/truth-black-white/17293817/  
NLIHC awards a State and Local Organizing Award for outstanding housing advocacy efforts at the state or local level. The Campaign to Take Back Vacant Land of Philadelphia, PA received this year's State and Local Organizing Award for its success in creating the nation's largest municipal land bank.
Signed into law by Mayor Michael Nutter in January of 2014, the newly created Philadelphia Land Bank will take control of more than 40,000 abandoned properties throughout the city. The Land Bank will allocate abandoned properties to organizations and developers to produce affordable housing, urban agriculture projects, and neighborhood economic development.
The Campaign to Take Back Vacant Land is a broad coalition of 47 community organizations led by the Women's Community Revitalization Project, Liberty Resources, and Disabled in Action. The campaign worked to ensure that the new Philadelphia Land Bank legislation contained provisions for accountability through community representation on the Land Bank's board and for transparency through public access to all Land Bank transfers of land.
Finally, each year NLIHC recognizes exceptional organizing by local residents through its Resident Organizing Award. This year's Resident Organizing award went to Community Housing Partnership (CHP) of San Francisco, CA for successful organizing efforts in support of the Fair Chance Ordinance, a new law preventing discrimination against ex-offenders on applications for employment or affordable housing.
CHP's campaign efforts involved three staff organizers working with and on behalf of more than 50 formerly incarcerated residents of CHP properties. CHP's Community Organizing and Resident Engagement (CORE) Program mobilizes the active, ongoing, and issues-informed participation of their 1,300 low income tenants on policies that affect low income people throughout San Francisco.
"At CHP, our tenants were reporting that it was hard to find housing and work because of background checks. Our social workers were having challenges in getting clients housing. When our partners approached us to work on this campaign, it was a natural fit."
Congratulations to all of the NLIHC 2015 Honorees.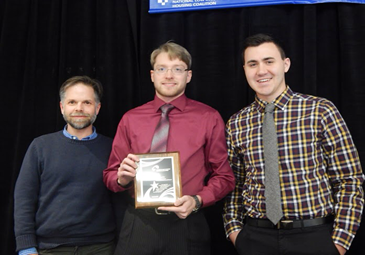 Bob Palmer, NLIHC Board Member with Mikel Livingston and Steven Porter, Journalists, Lafayette Journal & Courier and NLIHC's 2015 Media Award Honorees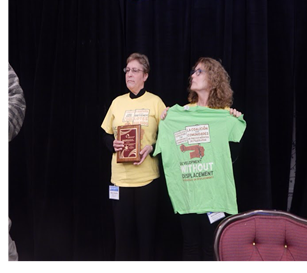 Nora Lichtash, Women's Community Revitalization Project and Nancy Salandra, Disabled In Action NLIHC's 2015, State and Local Organizing Honorees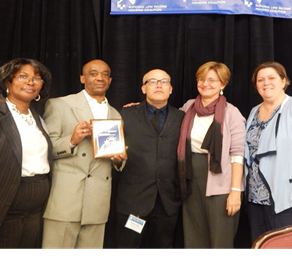 Daisy Franklin, NLIHC Board Member;  James Tracy and Donnell Fuller, CHP and NLIHC's 2015 Resident Organizing Honorees;| Sheila Crowley, NLIHC President and CEO; Brenda Clement, NLIHC Board Chair
Established in 1974 by Cushing N. Dolbeare, the National Low income Housing Coalition is dedicated solely to achieving socially just public policy that assures people with the lowest income in the United States have affordable and decent homes
National Low Income Housing Coalition
727 15th Street NW 6th Floor, Washington DC 20005
202/662-1530; Fax 200/393-1973;