Shortage of 7 Million Affordable Homes for Nation's Lowest-Income Renters
WASHINGTON, DC – NLIHC released today its annual report, The Gap: A Shortage of Affordable Homes, which finds a shortage of nearly seven million affordable and available rental homes for extremely low-income renters, those with incomes at or below the poverty level or 30% of their area median income. Even before the COVID-19 public health and economic crisis began, low-income households struggled to find decent, affordable homes. The report calls for policies that would ensure everyone has access to affordable, stable housing: significant and sustained investments in the national Housing Trust Fund, public housing, and the preservation of the existing affordable housing stock; expansion of the Housing Choice Voucher program to all eligible households; a National Housing Stabilization Fund to prevent evictions and homelessness; and stronger renter protections to help families stay stably housed.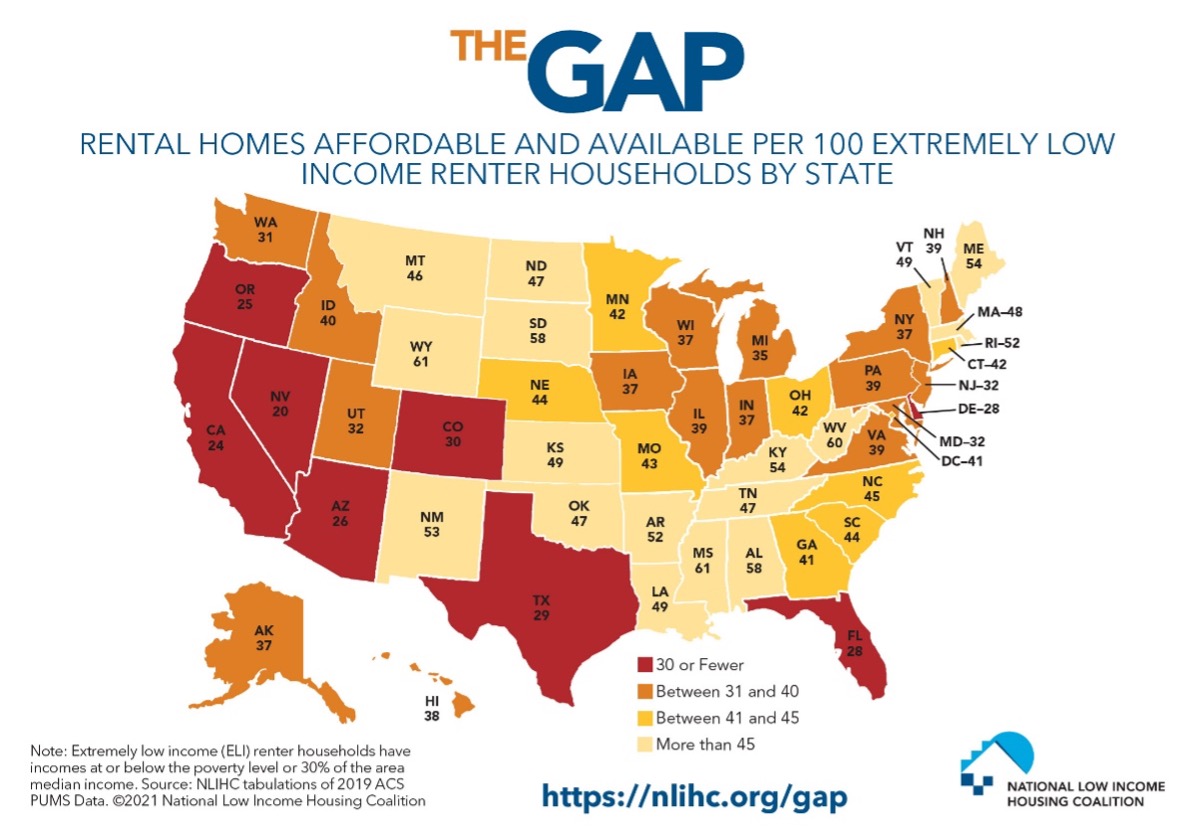 This year's report finds fewer than four rental homes are affordable and available for every 10 extremely low-income renter households nationwide. No state or major metropolitan area has an adequate supply of rental housing for the poorest renters. As a result of this shortage of affordable homes, 70% of extremely low-income renter households are severely housing cost-burdened, spending more than half of their limited incomes on housing. They account for over 72% of all severely housing cost-burdened renters in the U.S. Extremely low-income households with severe cost burdens struggle to pay for other necessities, like food, transportation, child care, and healthcare.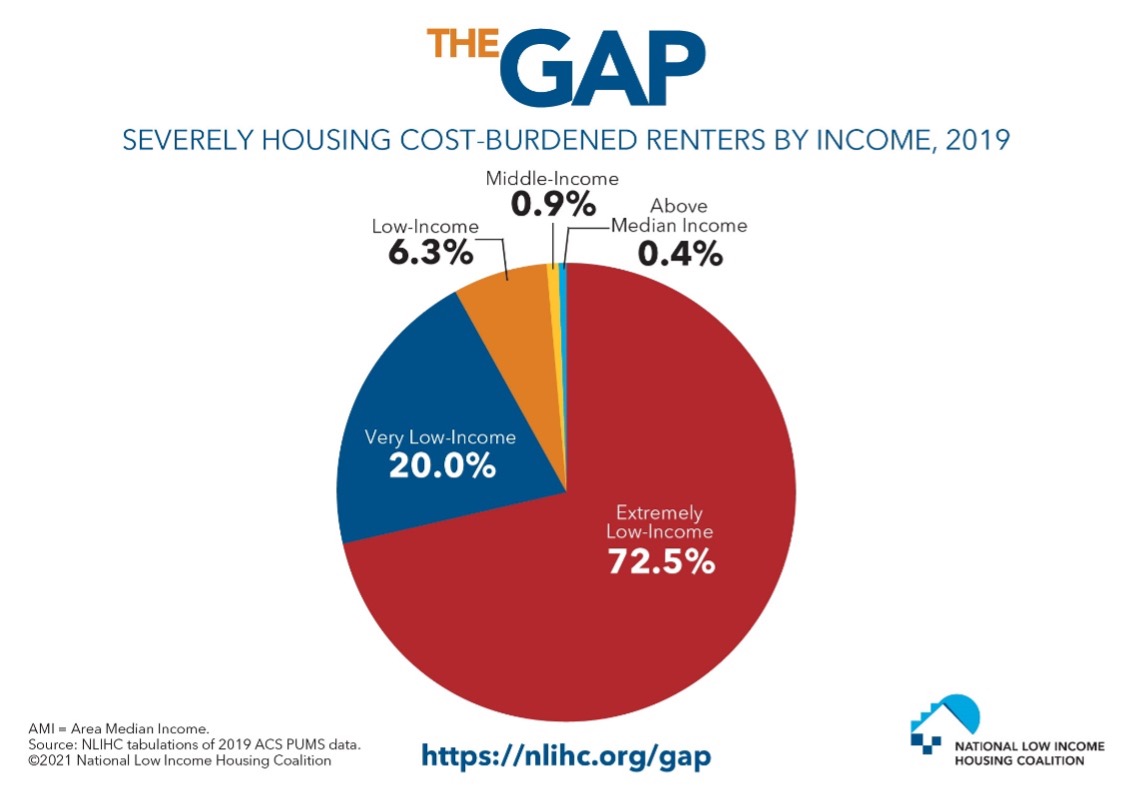 An unprecedented economic shutdown caused by the pandemic in the spring of 2020 forced many low-wage workers out of work, followed by sporadic re-openings and a bifurcated labor market recovery. As a result, many low-income renters, disproportionately people of color, now report being behind on rent and not confident about their ability to pay in the coming months. While most low-income renters struggled to pay rent before the COVID-19 crisis, they are in an even more perilous position now. In the short-term, robust eviction moratoriums and easily accessible emergency rental assistance, the resources for which have been provided by Congress,  are essential to keep people safely housed. As the report indicates, however, the shortage of affordable homes for the lowest-income renters is a pervasive and longstanding problem, and permanent solutions will require long-term commitments. Serious investments in the production and preservation of affordable housing are needed, and low-income renters need access to rental assistance, emergency stabilization funds, and stronger legal protections.
"The crisis created by COVID-19 has made it clearer than ever that stable, affordable housing for all is an imperative for public health, individual well-being, and our country," said NLIHC President and CEO Diane Yentel. "As our research shows, even before the pandemic, seven out of ten  renters with the lowest incomes were at severe risk of housing instability. When it became vital to  maintain social distancing, many of these families—disproportionately people of color—struggled to keep the very homes they needed to stay safe and healthy. While urgently needed emergency rental assistance is on its way, ending the long-term problem of housing affordability will require significant and sustained investments and protections. Without bold action, the lowest-income renters will continue endure severe housing cost burdens, housing instability, and eviction. With bold political will and leadership, we can end homelessness and housing poverty in America once and for all."
The full Gap report and interactive map are available at: https://reports.nlihc.org/gap
                                                                 # # #
About the National Low Income Housing Coalition
The National Low Income Housing Coalition is dedicated solely to achieving socially just public policy that ensures people with the lowest incomes in the United States have affordable and decent homes. NLIHC educates, organizes, and advocates to ensure decent, affordable housing for everyone. For more information about NLIHC, please visit www.nlihc.org.