Research Updates
Documenting Affordable Housing Needs
NLIHC's research highlights the need for more public investment in affordable rental housing and provides policy recommendations to ensure those investments target households with the greatest needs.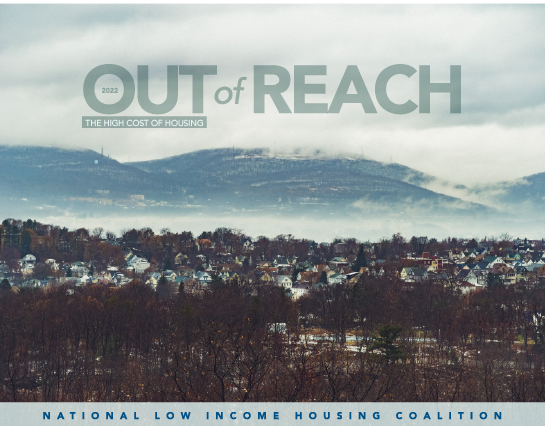 Out of Reach is an annual report that estimates the "housing wage" – the hourly wage that a full-time worker needs to earn to afford a modest rental home in their community. This year's report, released in July, found that the 2022 national housing wage is $21.25 for a one-bedroom rental home and $25.82 for a two-bedroom rental home. Both wages are much higher than the typical earnings of low-wage workers. The report also highlights recent nationwide rent increases. Between the first quarter of 2021 and the first quarter of 2022, the median rent for a two-bedroom apartment increased almost 18%. These increases have been driven by multiple factors, including record high inflation, increased demand for rental housing, and increased investor purchases of apartment buildings. The report incorporates tenant stories to speak to the realities faced by low-income renters in accessing and affording rental homes.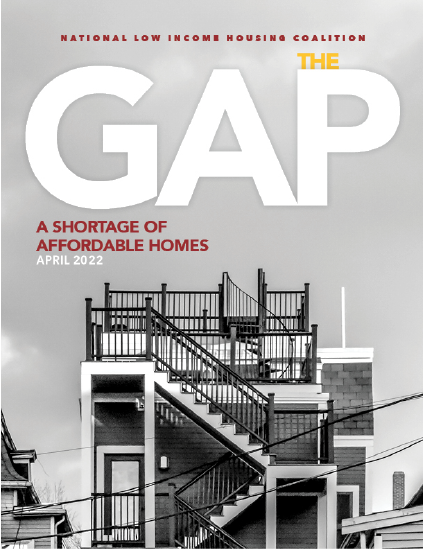 The Gap is an annual report that documents the shortage of rental homes affordable and available to renters with extremely low incomes for each state and large metropolitan area. In this year's report, released in April, we estimated a national shortage of 7 million affordable and available rental homes for extremely low-income renters. There are only 36 rental homes affordable and available for every 100 extremely low-income renter households, and no state was found to have an adequate supply. NLIHC will release updated editions of The Gap and Out of Reach in 2023.
Housing Preservation and Low-Income Housing Tax Credits
NLIHC also continues to publish research and manage data on the preservation of the country's existing supply of affordable homes. NLIHC manages the National Housing Preservation Database in partnership with the Public and Affordable Housing Research Corporation. This regularly updated database consolidates information on all federally assisted housing properties in one place and can be sorted by state, city, county, congressional district, and census tract. The database includes property information on inspection scores, number of units, type of subsidy, when subsidies or affordability restrictions expire, and more.
The Low Income Housing Tax Credit (LIHTC) faces unique preservation challenges, as properties financed by LIHTC age and begin to reach the end of their affordability requirements. The LIHTC program gives federal tax credits to state housing finance agencies (HFAs) to fund the construction, rehabilitation, or preservation of affordable homes for low-income renters. Federal law requires that LIHTC properties remain affordable for 30 years, and some states require longer affordability periods. In some instances, though, owners may eliminate the affordability restrictions after 15 years. Given the age of the program, LIHTC properties are for the first time approaching the 30-year mark and the possible end of their affordability restrictions. Some of these affordable housing properties may be lost from communities in high-demand areas where owners have incentives to raise rents to market rates. The loss of affordability can lead LIHTC tenants to experience rent increases and possibly displacement.
As part of NLIHC's LIHTC research effort, the team is currently working on a project to better understand how HFAs maintain and share property-level LIHTC data, such as information on affordability restriction end dates, as well as the ability of properties to be lost from the affordability stock after year 15. Having better data is essential for advocates to identify LIHTC properties at risk of being lost from the affordable housing stock and to organize efforts to prevent tenant displacement. The research team intends to publish a report on its findings in fall 2022.
Insights from the Emergency Rental Assistance Program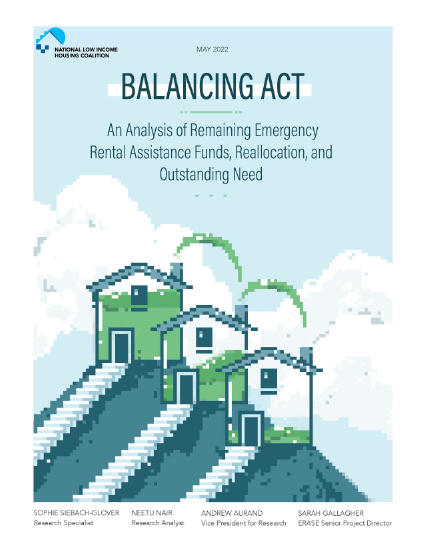 Throughout the pandemic, NLIHC has tracked state and local emergency rental assistance (ERA) programs implemented to help renters who have fallen behind on their rent. Households can find an ERA program near them using NLIHC's searchable database, which tracks more than 500 U.S. Department of the Treasury (Treasury) ERA programs. As of March 2022, Treasury's ERA programs had spent $28.5 billion and made nearly 5.6 million payments to households. As programs begin to run out of funds, some have begun shutting down their portals. As of June 2022, 130 state and local programs were not accepting new applicants.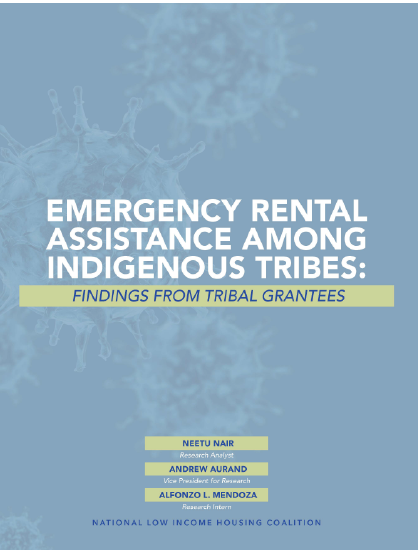 NLIHC also posts research to its ERA Resource Hub that highlights best practices to ensure that ERA reaches renters with the greatest needs. Recent reports available through the Resource Hub provide information on how ERA programs operate for Indigenous tribes, how programs are reducing documentation barriers through use of fact-specific proxy, and on the current status of ERA spending and reallocation. NLIHC, in partnership with the Housing Initiative at Penn and the NYU Furman Center, also published a paper in the journal Housing Policy Debate addressing whether ERA programs were implemented in ways that helped meet the primary program goal of preventing homelessness. The paper found that while 89% of programs identified preventing homelessness as a goal, ERA programs were rarely made accessible to those renters most at risk of homelessness.
In fall 2022, NLIHC's research team will begin evaluating the outcomes of select ERA programs by conducting surveys and focus groups with renter applicants.
A Safe Home Means a Stronger Democracy
By Gillian Slee
Eviction Lab researcher and PhD candidate in sociology and social policy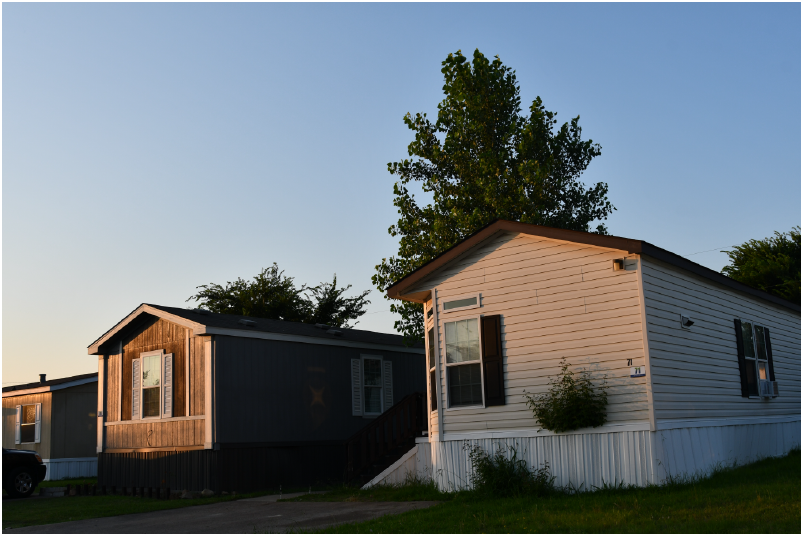 Registering to vote takes about one month in 22 states. Filing an eviction, on the other hand, requires no more than one week in 39 states. The eviction process is fast and can make it difficult for voters to re-register and participate in future elections.
When American renters are evicted from their homes, they must address urgent concerns about shelter and employment. Voter registration and turnout often require identification or proof of address. Likewise, voters often rely on help from their social networks to vote – a neighbor's encouragement, for example, or a ride to the polls – but these networks can be lost following a forced move. Evictions thus threaten to lower democratic participation in the United States.
In a recent study that I conducted with my colleague Matthew Desmond, we found that eviction significantly decreased communities' voter turnout in the 2016 presidential election. Fewer people turned out to vote in communities affected by the forced displacement of renters. Our findings applied widely – to neighborhoods located in urban as well as rural areas, in those with new voting requirements or uncompetitive races, and in those with low as well as high exposures to eviction. On the other hand, the effect of eviction on voter turnout was minimal in neighborhoods located in states with same-day or Election Day registration and in swing states.
An investment in renters' housing security is an investment in democracy: if we want people to vote, we should keep renters in their homes by any means possible, from supporting the civil right to counsel to expanding access to rental assistance. Implementing same-day or Election Day registration may help, too. Community organizers can support renters' stability while also motivating neighborhoods' political participation by targeting their efforts to those who are at especially high risk of eviction.