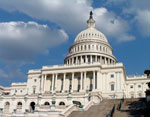 The Campaign for Housing and Community Development (CHCDF) Steering Committee sent a letter to leaders of both the House and Senate Appropriations Committees urging them to provide the highest possible funding for HUD programs in the Fiscal Year 2017 Transportation, Housing and Urban Development and Related Agencies (THUD) spending bill as they wrap up funding negotiations for the year.
The letter reads:
"We appreciate that both the House and Senate Appropriations Committees have proposed increases for affordable housing and community development programs administered under the Department of Housing and Urban Development (HUD). However, given the affordable housing crisis our nation is facing, we ask that you adopt the funding level in the Senate's FY17 THUD bill, which provides an additional $1.5 billion to HUD programs over FY16 enacted levels. The Senate was able to increase HUD funding by reclaiming unused federal dollars through a rescission of unobligated Highway Trust Fund contract authority from previous years. Overall, the Senate would provide $39.2 billion in funding to HUD, while the House would provide $38.7 billion. We urge you to include this transportation rescission in the final FY17 THUD spending bill so housing and community development programs are adequately funded.
"The need for safe and affordable housing far outpaces the available supply in the United States. We thank the Committees for taking steps to address this urgent situation through a reasonable increase in funding proposed in the THUD spending bill. This action is crucial to helping secure the well-being for some of our nation's most vulnerable citizens and ensuring that communities have the means to thrive."
The letter also urges lawmakers to pass the final THUD spending bill without harmful policy riders.
CHCDF is an education, strategy and action hub for national organizations dedicated to adequate federal housing and community development funding for lower income families and communities. CHCDF's more than 70 members represent a full continuum of national housing and community development organizations, including faith-based, private sector, financial/intermediary, public sector, and advocacy groups. CHCDF is coordinated by the National Low Income Housing Coalition.
Read the CHCDF letter at: http://bit.ly/2dxPAot