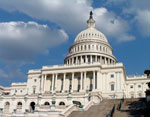 The Campaign for Housing and Community Development (CHCDF) sent a letter to Members of Congress explaining why a stopgap funding measure, known as a continuing resolution (CR), puts the FY17 affordable housing budget at risk. CHCDF urged lawmakers to enact clean, full-year FY17 spending bills for HUD and the U.S. Department of Agriculture (USDA).
The letter reads in part:
"For FY17, HUD needs approximately $1.5 billion more than FY16 spending levels and USDA needs $18 million more to maintain current program levels and renew existing housing assistance contracts. This increase will help to keep all families using tenant and project-based rental assistance in their homes, including veterans who have recently received HUD-VASH vouchers. A CR at FY16 levels could result in deep cuts to critical housing programs that could cause thousands of families and children to lose access to stable housing, putting them at increased risk of homelessness, as well as losing accessible housing for millions with disabilities. More than an estimated 130,000 vouchers could be lost in FY17 if Congress passes a full-year CR at FY16 levels."
CHCDF is a coalition of 70 national housing, homeless, and community development organizations working together toward the highest possible funding for such programs. CHCDF, coordinated by NLIHC, promotes strengthening existing affordable housing and community development programs in order to expand and preserve affordable and accessible housing options for low and moderate income families.
Read the coalition letter at: http://bit.ly/2glpvLY