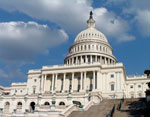 During Senate consideration of the FY17 Commerce, Justice, Science and Related Agencies (CJS) appropriations bill, several senators filed amendments that would undermine the Fair Housing Act and funding for the U.S. Census Bureau. At the same time, the House and Senate have decided not to include the FY17 Transportation-Housing and Urban Development (THUD) appropriations bill in the negotiations over a spending package that provides funding for Zika aid and the Department of Veterans Affairs.
Senator Mike Lee (R-UT) filed an amendment to the CJS bill that would prohibit the Department of Justice from enforcing HUD's discriminatory effects rule. This rule clarifies the use of the disparate impact standard under the Fair Housing Act to challenge facially neutral polices or practices that constitute housing discrimination. Senator Lee had earlier introduced an amendment blocking enforcement of HUD's Affirmatively Furthering Fair Housing rule during debate of the Senate's THUD bill.
Senator Deb Fischer (R-NE) filed an amendment that would cut the proposed funding level for the Census Bureau by $148 million in order to flat fund the agency, essentially eliminating the resources it needs to ramp up for the 2020 Census. The bill currently provides $1.5 billion to the Bureau. The cut in funding would force the Bureau to abandon most, if not all, plans to modernize the census. Alternatively, the Bureau would have to eliminate the America Community Survey (ACS), which provides critical data on household incomes and housing conditions. NLIHC and other affordable housing organizations use ACS data to determine the need for affordable housing at the national, state, and local levels. The ACS helps determine how more than $400 billion in federal and state funds are distributed each year.
Senator David Vitter (R-LA) filed an amendment that would add questions on citizenship and legal status to the 2020 Census form in order to exclude undocumented residents from state population totals used to determine congressional apportionment. This amendment could put the accuracy of the 2020 at risk and seeks to achieve a purpose that is unconstitutional. The 14th Amendment to the U.S. Constitution states that apportionment of the House of Representatives is based on a full count of all resident in each state, regardless of citizenship or legal status.
It is unclear if any of these amendments will receive a vote when the Senate again takes up debate of the CJS bill later this week. Debate of the CJS bill was delayed when Democratic Senators filibustered the bill to force action on gun control proposals in the wake of the mass shooting in Orlando, Florida.