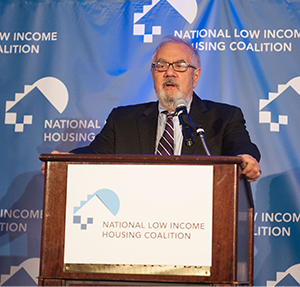 Former U.S. Representative and House Financial Services Committee Chair Barney Frank (D-MA) and other friends and colleagues celebrated the contributions of long-time National Low Income Housing Coalition (NLIHC) President and CEO Sheila Crowley at the 2016 Housing Policy Forum. After 17 years as president and chief executive officer of the Coalition, Sheila is retiring at the end of April.
NLIHC Board Chair Brenda Clement kicked off the celebratory dinner with words of appreciation about Sheila's leadership of NLIHC. Ms. Clement described Sheila as an inspirational and determined leader who never wavered in her advocacy for affordable housing for those with extremely low incomes.
Mr. Frank gave the keynote address, beginning with a vigorous argument on the need for affordable rental housing in the U.S. Too many politicians, Mr. Frank said, have espoused the importance of homeownership at the expense of the affordable rental housing. "Home is what's important, not just homeownership," he said. Decent rental housing is not just essential, it is "cost-efficient," he said, saving the country countless dollars in so many other areas. 
Mr. Frank joked that part of Sheila's job description is "to get people mad at you. She's very good at that." He described their impassioned discussions about specifics of affordable housing legislation. "Invariably," he said, "we both learned. We both grew. We came to understand our shared commitment, our mutual dedication to getting affordable housing done right."
Mr. Frank concluded his remarks by saying: "Sheila Crowley is extraordinary. She is a rare combination of three qualities that are all represented in the advocacy community but are not often combined in one individual: an expert in the substance of housing policy, a sophisticated student of the legislative process, and an extremely talented community organizer. It is this combination that has made her as effective an advocate on behalf of the poor as anyone I have ever worked with." Mr. Frank's remarks were followed by a number of moving testimonials about Sheila from colleagues, board, staff, and NLIHC members.
In response, Sheila thanked Mr. Frank for his words, his friendship, and his support for affordable housing for so many years. "Advocates need champions in Congress to get things done. There has been no greater champion for affordable housing than Barney Frank," she said. Sheila spoke about how important it is that the people affected by policies have a voice in their formulation and about her pride in NLIHC's unique involvement of low income residents on its board of directors and policy advisory council. Sheila spoke with great emotion about her time working with people experiencing homelessness, individuals and families "who had no place to go at the end of each day."
Sheila was joined at the celebration by her husband, Kent Wills, her sister, Margaret Crowley, her daughter, Emily Fagan, and her granddaughter, Rebecca Fagan.
Recognizing Sheila on her retirement was a theme throughout the entire Forum. In his keynote address, HUD Secretary Castro saluted Sheila for her more than 30 years of public service "fighting for the folks who most need someone in their corner."
At the dinner celebration, NLIHC Board Member Martha Weatherspoon presented Sheila with a Tennessee House Joint Resolution authored by Representative Joe Pitts and signed by the Speakers of the House and Senate and by Tennessee Governor Bill Haslam recognizing Sheila for her leadership of NLIHC, her many accomplishments, and her success in establishing the National Housing Trust Fund.  Sheila thanked Martha and commented that "Martha has juice" in her state.
At the Leadership Reception, BBVA Compass Director of Corporate Responsibility and Reputation and former NLIHC Board Member Rey Ocañas applauded Sheila Crowley for her outstanding contributions on behalf of extremely low income people and announced that BBVA was making a contribution of $100,000 to the Sheila Crowley Housing Justice Fund in honor of Sheila's retirement and to further support NLIHC's mission. The NLIHC Board of Directors established the Sheila Crowley Housing Justice Fund in 2016 as a way for NLIHC supporters to recognize Sheila as she leaves NLIHC. To make a contribution, please go to https://nlihc.wufoo.com/forms/honoring-sheila.