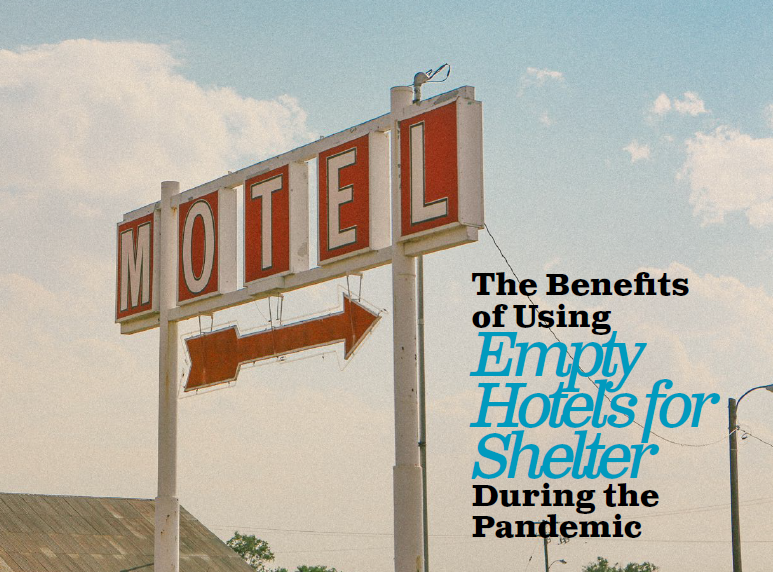 Congregate sheltering poses a severe risk to individuals experiencing homelessness, many of whom are more likely to have pre-existing medical conditions that make contracting coronavirus more severe. The general public is also at greater risk when there are outbreaks in the homeless community. One way to reduce this risk is for shelter residents to be moved to safer non-congregate sheltering, such as hotels and motels, which allows for self-isolation and prevents the coronavirus from rapidly spreading to others.
After massive COVID-19 outbreaks in shelters in Boston and San Francisco, many cities and states have decided to move people experiencing homelessness to non-congregate sheltering. In San Francisco, after over 100 residents tested positive for the virus at a shelter, city officials unanimously passed an emergency ordinance to lease 7,000 hotel rooms for people experiencing homelessness, whether or not they had been exposed to the disease. 
Governor Gavin Newsom of California announced in April that thousands of people without homes would be relocated to hotel rooms through a state program called "Project Roomkey." Similar efforts are underway in other states. At the time of this writing, seven states have plans for FEMA reimbursable, non-congregate sheltering of individuals experiencing homelessness and others needing space for social isolation. Additional shelters are moving forward with non-congregate plans in places where FEMA has not approved a statewide program.
Many communities have experienced challenges moving people into non-congregate shelters quickly. Some issues that have arisen include lack of funding, hampered mobility of people experiencing homelessness, NIBMYism (Not In My Backyard) opposition in neighborhoods where the non-congregate sheltering would take place, lack of access to critical services, or limited room capacity. Some communities have creatively addressed these challenges with success. For example, the City of New Haven, CT, moved the most vulnerable people experiencing homelessness into hotels first. Wraparound services and meals were brought to them. 
As eviction moratoriums end and the unemployment rate increases, the number of people experiencing homelessness could dramatically increase. While there is still much unknown about the virus, advocates must work with elected officials to ensure the needs of individuals experiencing homelessness are included in all their disaster planning. Getting individuals experiencing homelessness out of shelters and into hotel rooms will go a long way to ensure that this vulnerable population is protected.