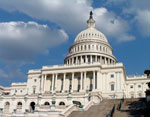 Senate Majority Leader Mitch McConnell (R-KY) was again forced to push back a procedural vote on a stopgap funding measure last week, after Senators remain unable to reach an agreement on how to fund the federal government. Congress now has less than a week to pass the measure, known as a Continuing Resolution (CR), before the last day of the fiscal year (September 30) to avert a government shutdown. Leader McConnell has rescheduled the vote for tomorrow afternoon.
Majority Leader McConnell unveiled the text of a CR last Thursday, which includes $500 million in emergency funding to help flood victims in Louisiana and other affected states. Several lawmakers had requested that the CR include emergency funding for Louisiana to help the state recover from severe flooding in August. The White House asked Congress to provide $2.6 billion in Disaster Recovery Community Development Block Grant funds. HUD reports that over 1,300 of their tenants have been displaced by the flooding, while the Federal Emergency Management Agency (FEMA) has registered more than 144,000 people seeking disaster assistance. More than 145,000 homes are located in flood areas.
The CR also reduces funding levels with an across the board cut of 0.496%, with a number of exceptions. The CR includes a provision allowing the U.S. Department of Agriculture (USDA) to pay ongoing debt service for rental assistance contracts under the Section 514 and Section 516 multi-family direct loan programs.
The CR was met by immediate opposition from Democrats in both the House and Senate, as the bill does not provide funding to address the lead crisis in Flint and includes a policy rider related to campaign finance. The White House has also indicated the administration does not support the bill. White House Press Secretary Josh Earnest said, "It's not at all clear to me [President Obama is] prepared to sign this bill."
Republicans argue that the situation in Flint was created by state and local governments and may not qualify for federal emergency aid that is often provided after natural disasters.
House Appropriations Committee Chair Harold Rogers (R-KY) stated, "While [a CR] is not the preferable way to fund the government, and there are several additional items I would have liked to see included, the bottom line is that it is essential that we keep the government open and provide these vital funds."