The Opportunity Starts at Home multi-sector affordable homes campaign released on March 28 at the NLIHC Housing Policy Forum the results of a nationwide public opinion poll it commissioned with Hart Research Associates.  Among the poll's many findings were that more than eight in ten Americans believe ensuring housing affordability should be a "top national priority."
National Campaign Director Mike Koprowski kicked off the session with an update on the campaign and the reasons behind conducting the poll. "This poll is a call to action," he said. "At a time when Republicans and Democrats can't agree on much of anything, the issue of housing affordability appears to be a much-needed unifier."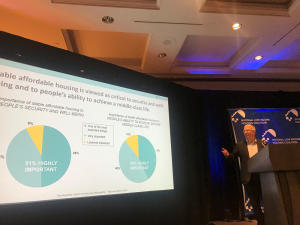 Hart Research Associates President Geoff Garin 
The poll is the first in several years to extensively assess the extent to which the general public considers housing affordability to be a problem in their communities, whether they have had to make sacrifices in other areas of life because of housing costs, whether they expect action from elected officials, whether they are more likely to vote for a candidate that has a detailed plan to address the problem, and their openness to the specific policy solutions outlined in the campaign's National Policy Agenda. 
Hart Research Associates President Geoff Garin unveiled the polling results.  Not only did the poll find that 85% of the public believe ensuring everyone has a safe, decent, affordable place to live should be a top national priority, it found this view is strongly held across the political spectrum – from 95% of Democrats to 87% of independents to 73% of Republicans.
Click here to view the full survey results, including the press release, fact sheet, questionnaire data, and the Opportunity Starts at Home campaign's open letter to 2020 presidential candidates.
The campaign will host a congressional briefing at the Capitol Visitor Center on Thursday, April 11, 1:00 p.m. to 2:00 p.m. ET to discuss the polling results. To register, click here.