Teachers in the nation's third-largest school district have returned to school after an 11-day strike. While the contract negotiations included traditional issues like class sizes and benefits, the Chicago Teachers Union, in an unprecedented move, also called on the city to tackle issues that extend beyond the classroom, including the lack of affordable housing for school employees, students, and parents. The teachers demanded that the school district support public policies that encourage more affordable housing.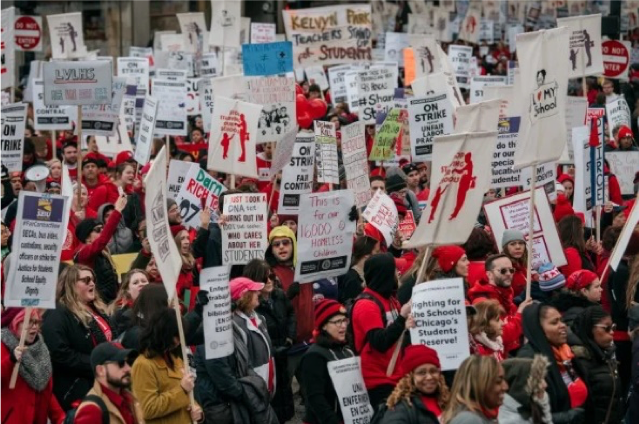 Photo: Scott Heins - Bloomberg/Getty Images
While the expansion of affordable housing did not ultimately make the final deal, experts believe that it represents the first teacher strike that focused on homelessness and affordable housing in contract negotiations. Not only do public school teachers and support staff in Chicago struggle to find affordable housing in the city where they are required to work, but they also understand that the housing affordability crisis deeply impacts their students' ability to learn and thrive.  Last year in Chicago, over 16,000 students experienced homelessness.
Mayor Lightfoot agreed on the importance of affordable housing but did not support its explicit inclusion in the teacher contract itself.  "Affordable housing is a critical issue that affects residents across Chicago, and everyone's voices need to be heard during this process," said Mayor Lightfoot. "As such, the [teachers union] collective bargaining agreement is not the appropriate place for the City to legislate its affordable housing policy."
Nevertheless, the prioritization of housing affordability by one of the largest teachers' unions in the country demonstrates a growing recognition that more robust investments in affordable housing will drive better student and teacher outcomes. As Robert Bruno, a professor of labor and employment at the University of Illinois, Urbana-Champaign, explains: "It's certainly true that in education the topics have expanded.  It seems like school districts are beginning to see housing affordability as a piece of the puzzle to make their school districts attractive."
For more information about the intersections between affordable housing and educational outcomes, please see the Opportunity Starts at Home multi-sector affordable homes campaign's Fact Sheet.