On July 17, NLIHC hosted a virtual screening of the documentary film A Reckoning in Boston and a panel discussion with co-producer Kafi Dixon and community leaders Victoria Adinkra and Tiana Bass. The discussion was moderated by Renee Willis, senior vice president of racial equity, diversity, and inclusion at NLIHC. The event was part of NLIHC's Summer of IDEAS (Inclusion, Diversity, Equity, Anti-racism, and Systems-thinking) event series.
Kafi Dixon, who appears in the film, is the founder of Common Good Cooperative, Boston's first cooperative for women that aims to respond to the experiences of low-resourced and impoverished communities, as well as community violence impacting women in Boston. Victoria Adinkra is founder of the Everybody Eats Project, a mutual aid organization with a mission to address food insecurity among people experiencing homelessness and housing instability in Lynn, MA. Tianna Bass is a long-term Boston resident who is navigating the systems and structures affecting housing stability in the city.
The film follows two Dorchester residents, Kafi Dixon and Carl Chandler, who enrolled in the Clemente Course in the Humanities a rigorous course designed to foster deep engagement with history, literature, philosophy, and art history for people who are justice-impacted, have experienced homelessness, or have faced other barriers to housing. Filmmaker James Rutenbeck, a white man, started making this film with the intention of documenting students' engagement with the Clemente Course. However, as he spent more time with Kafi and Carl, he was exposed to the racism and violence they met with as Black, low-income citizens of Boston. Unlike other films, the documentary shows the systemic racism and oppression faced by marginalized communities at both intimate and institutional levels while also displaying the ways racial violence relates to white supremacy. 
In the discussion, the panelists spoke about the issues highlighted in the film and those they witness in their own communities, such as housing insecurity and homelessness. They also spoke about the importance of community and knowing your history and explored methods for amplifying stories about people impacted by housing instability and homelessness. During the conversation, Kafi reflected on why she participated in the documentary and what story she wanted to tell. She explained that she rarely saw any representations of women like her who were able to share their stories. She wanted to share the "experiences of working-class women who came out of policies like welfare [and push back against] the archetypes of welfare queens, when we were the teenage mother, the latchkey kid." 
Kafi described what it meant to be a Black woman facing housing instability and operating in a society where she is undervalued and underrepresented. "There were many different social stigmas that came about with women who were in my age range," she said. "There was a system at play that hadn't yet come up with an answer for what's next for women like us. A system embedded with racism and bias."
Concerning James Rutenbeck's invitation to Kafi to participate and eventually become a producer of the film, Kafi said that "it was bringing to life a very unseen part of a Black woman, a working-class Black woman's experiences. Her daily experiences, her hopes, her ambitions, and I felt that I was tasked with the responsibility of bringing that to life and setting it to be witnessed."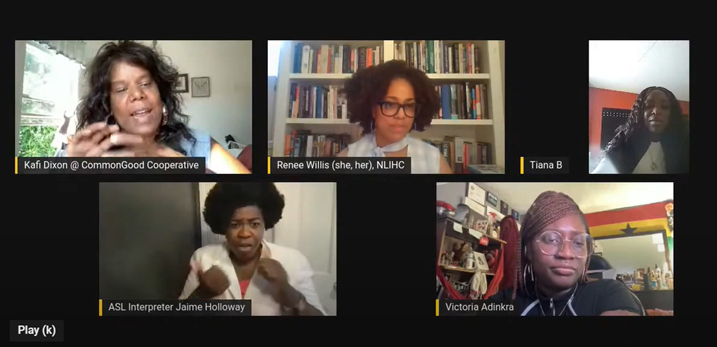 Tiana and Victoria discussed how the film personally impacted them, and how it aligned with or disconnected from their own experiences and perspectives. Tiana talked about her experience as a single mother who is trying to own her own home. "You got to pay Peter to pay Paul, and the hard times you have to overcome…so how can I stabilize myself with affordable housing?"
Victoria related the film to her experiences working as a prevention case manager with youth who are experiencing homelessness. "I liked seeing the work done trying to get the city and the government's support." She also spoke about her experience with starting up her mutual aid project. "When I started my mutual aid project, I just started it...I didn't go to the city to ask if I could do this. I just did it. So that just resonated with me, Kafi's experience of just going to the land and doing it…You have to do what you have to do…when you see a need and when there's gaps in resources."
Kafi, Tiana, and Victoria discussed a central theme in the film, racial inequity. They shared experiences at home, work, or school that deeply influenced their understanding of race and racism and how these experiences shaped their perspectives. Victoria spoke about her experience as an immigrant who came to the U.S. from Ghana at a young age, as well as her experience being one of the few Black students at her private school. She felt that people already had perceptions about her because she was young and Black and that she was treated differently because of that. She saw the differences in resources between the white private school she attended and the public schools near which she grew up. Tiana discussed her experience in the workplace and how racial bias prevented her from getting the job she wanted, regardless of her qualifications. Kafi explained that communities do not have the language to talk about the violence they have experienced due to racism and racial bias. She also explained that Boston was a city that had been desegregated to some degree in her lifetime but that is still deeply segregated today. "It was so embedded that I never even realized that it was racism…[I never realized] how embedded segregation was."
Kafi reminded the audience of the importance of being politically relevant, because she has seen how being left out of the bigger political conversation can be a detriment to a community. She emphasized the importance of using resources to direct elected officials, policies, and funding to where it is most needed. Kafi also stressed the need for uplifting one another as we move into potentially difficult and challenging times, with soaring inflation and skyrocketing rents, and of the importance of creating spaces for people to talk about these issues, especially for those that are affected by them.
The next event in the Summer of IDEAS series will be held on August 4 at 3 pm ET. NLIHC will host a live virtual discussion about the Pulitzer Prize-winning book Invisible Child: Poverty, Survival and Hope in an American City with Andrea Elliott (the book's author), Chanel Sykes (an advocate and mother featured in the book), and James Perry (president and CEO of the Winston-Salem Urban League). The conversation will be moderated by Melissa Harris-Perry, the Maya Angelou Presidential Chair at Wake Forest University. Register for the event at www.summerofideas.org.
Watch a recording of the July 17 conversation at: https://bit.ly/3PoI8wm
To learn more about the Summer of IDEAS series, visit: www.summerofideas.org