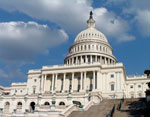 Given Congress's inability to move all twelve federal spending bills, House Democratic Whip Steny Hoyer (D-MD) stated that Congress will have to pass a stopgap spending measure, known as a continuing resolution (CR), to fund the federal government beyond September 30, when the fiscal year ends. While both parties agree that the prospect of a CR seems likely, Members of Congress disagree over how long the CR should extend.
Democrats and some Republicans would like the CR to run from October 1 through early December to be followed by an omnibus spending bill to cover the rest of FY17. Some Republicans, particularly members of the conservative Freedom Caucus, would prefer the CR to run through next March to avoid lame-duck session deal making.  But House Labor-HHS-Education Appropriations Subcommittee Chair Tom Cole (R-OK) stated, "There will be some arguing for March, and I think that's a big mistake and unfair to the next president, whoever that is."
The outcome of the November elections will likely have a significant impact on how each party proposes to fund the federal government for the rest of the fiscal year.