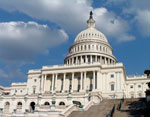 Congress is expected to vote on a short-term continuing resolution (CR) this week to fund the federal government before the current CR expires on December 9. While House Republicans initially pushed for the new CR to run through March, Senate Republicans indicated that they wanted the CR to run longer to accommodate the Senate's packed schedule in the first few months of the new Congress. Now lawmakers are discussing having the CR run through the end of April.
It remains unclear to what level of spending the CR will be written. Some appropriators said they expected the bill to be written to the FY17 discretionary spending level agreed upon in the 2015 bipartisan budget agreement. Under that agreement, discretionary spending for both defense and nondefense spending was capped at $1.067 trillion for FY 2016 and $1.070 trillion for FY 2017. The current CR is written to the FY16 level.
Enacting another CR at FY16 levels could cause a steep shortfall in HUD funding, greatly impairing the agency's ability to provide critical housing assistance to families with the lowest incomes. Thousands of families and children could lose access to stable housing, putting them at increased risk of homelessness, and many with disabilities could lose accessible housing. More than an estimated 100,000 vouchers could be lost in FY17 if Congress passes a full-year CR at FY16 levels.
House Appropriations Chair Hal Rogers (R-KY) stated that the CR will include many spending anomalies throughout the bill. An "anomaly," in the context of a CR, is a special provision included to address a particular program need. Several HUD programs may require anomalies to meet their contractual obligations and continue to serve HUD-assisted households.