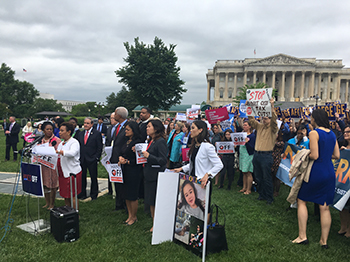 Leading members of Congress and close allies gathered for a press conference to voice opposition to the president's proposed budget.
House Democrats rallied and held a press conference on Capitol Hill on May 24 to oppose President Donald Trump's recently released federal budget proposal for FY18.
Minority Leader Nancy Pelosi (D-CA), Minority Whip Steny Hoyer (D-MD), and Representatives Barbara Lee (D-CA), Al Green (D-TX), Pramila Jayapal (D-WA), Michelle Lujan Grisham (D-NM), and John Yarmuth (D-KY) spoke at the event.
Additional speakers included leaders from PICO National Network, the Center for American Progress, the Leadership Conference, AFSCME, the National Women's Law Center, Indivisible, and MoveOn.org. They were joined by advocates from the American Federation of Government Employees (AFGE), NETWORK Lobby for Catholic Social Justice, and Planned Parenthood.
Rallying to the chant "hands off," speakers addressed the breadth of programs, communities, and individuals that would be negatively impacted by the severe cuts included in Mr. Trump's proposal. "I have never seen a budget so devoid of compassion for struggling families," Ms. Lee stated.
Ms. Pelosi said that the administration's budget proposal "undermines the strength and the possibility and the stability of our country" and called on her colleagues in Congress to "just tear this thing up."
Bishop Dwayne Royster, political director of PICO, stated that the budget proposal "represents a continued transfer of wealth from the poorest people to a handful of the wealthiest people."
Lee Saunders, president of AFSCME, commented that the budget proposal "is immoral and unprecedented in its cruelty to vulnerable people."
Read NLIHC's detailed analysis of Mr. Trump's budget proposal in this issue of Memo to Members: President Trump's Budget Proposes to Slash Affordable