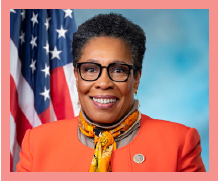 President-elected Joe Biden nominated Representative Marica Fudge (D-OH) to be the 18th secretary of the Department on Housing and Urban Development (HUD) on December 8, 2020. If confirmed, Secretary-designate Fudge will lead HUD during an immensely challenging time for the lowest-income renters and people experiencing homelessness in the U.S., but also a time of opportunity to advance housing justice. 
Millions of renters who have lost jobs or income due to the coronavirus pandemic are struggling to make rent and facing eviction, and people experiencing homelessness are at an especially high risk of contracting, spreading, and becoming seriously ill. Secretary-designate Fudge must prioritize protecting the health and homes of our lowest-income neighbors, as well as repairing the harm done to housing justice and equity by the Trump administration and advancing long-term solutions.   
Secretary-designate Fudge has represented the 11th congressional district of Ohio, including much of Cleveland, since 2009. Though she comes to HUD with limited experience in housing policy, she has focused on areas that intersect with affordable housing, such as food security and civil rights. Most recently she chaired the House Committee on Agriculture Subcommittee on Nutrition, as well as the House Committee on Education and Labor Subcommittee on Civil Rights and Human Services. Secretary-designate Fudge was also a member of and past chair of the Congressional Black Caucus and a member of the Progressive Caucus, among others.  
HUD will play a vital role in the administration's response to the coronavirus and advancing President Biden's vision of housing and racial justice. President Biden has proposed a bold legislative COVID-19 relief package that includes essential housing and homelessness resources and protections (see: https://bit.ly/3aQivBD). Once enacted, Congress and the administration will likely turn their attention to a larger stimulus and infrastructure package, which will provide an opportunity to address longer-term housing stability through solutions such as housing vouchers, investments in the national Housing Trust Fund and public housing, and expanded renter protections.  
NLIHC looks forward to working closely with Secretary Fudge in her new role at HUD to create inclusive communities and quality affordable homes for all.