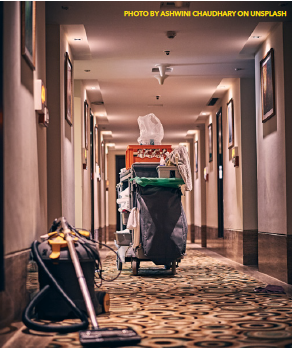 NLIHC published in July Out of Reach 2021: The High Cost of Housing, which highlights the gulf between the wages people earn and what they need to earn to afford their rent. The 2021 national Housing Wage is $20.90 per hour for a modest one-bedroom rental home and $24.90 per hour for a modest two-bedroom home. That means that on average, someone who works 40 hours per week all year round must earn $24.90 per hour to be able to occupy a modest two-bedroom home without becoming housing cost-burdened. The average renter's hourly wage is just $18.78 per hour, however, and of course minimum-wage workers earn even less.
While the cost of housing varies across the country and some states and cities have higher minimum wages than the federal level of $7.25 per hour, nowhere in America can a full-time, minimum-wage worker afford a modest two-bedroom rental home. On average, a minimum-wage worker would need to work nearly 79 hours per week to afford a one-bedroom home or 97 hours per week to afford a two-bedroom.
Eleven of the twenty largest occupations in the country pay a lower median hourly wage than what a full-time worker needs to earn to afford a modest rental home. Food and beverage serving workers, retail sales workers, home health and personal care aides, and building cleaning and pest control workers do not earn enough to afford decent housing in their communities.
Low-wage workers are not the only renters that struggle to afford their housing. Over 1.7 million renter households have a non-elderly householder with a disability not in the labor force. An individual relying on federal Supplemental Security Income (SSI), which is only $794 per month, can afford just $238 per month for rent, and SSI payments are less for those who have other sources of income. The Fair Market Rent for a one-bedroom rental home in 2021 is $1,061 per month, and the Fair Market Rent for a two-bedroom home is $1,295. In many states, renters with disabilities will not have enough to afford modest rental homes where they live. The Technical Assistance Collaborative's regular report, Priced Out: The Housing Crisis for People with Disabilities, goes into greater detail about the struggle for renters with disabilities and makes clear the extent to which SSI payments are insufficient across the county for these renters.