Take Action TODAY: Harmful Policy Riders Threaten to Derail Final Federal Spending Deal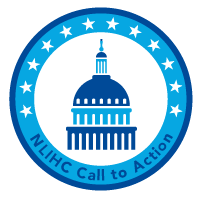 NLIHC has joined the Clean Budget Coalition—a group of more than 100 organizations—to urge Congress and the White House to reject harmful poison pill policy riders that could prevent lawmakers from enacting a final full-year spending package for Fiscal Year (FY) 2017, putting vital investments in affordable housing at risk.
If Congress does not approve full-year FY 2017 spending bills for the Departments of Housing and Urban Development (HUD) and Agriculture (USDA) and instead passes a long-term stopgap spending measure known as a Continuing Resolution (CR), these agencies will see a steep shortfall in funding. This will result in deep cuts to critical housing programs that could cause thousands of families and children to lose access to stable housing, putting them at increased risk of homelessness.
For more information on how long-term CR will negatively impact affordable housing programs, click here: http://bit.ly/2aK61e1.
TAKE ACTION
Sign onto the Clean Budget Coalition letter urging Congress and President Obama to pass full-year spending bills without harmful policy riders by going here: http://bit.ly/2eeJhbw
The deadline for signing onto the letter has been extended to Friday, October 28. All national, state, and local organizations are encouraged to sign.