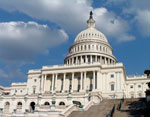 Democratic lawmakers urged their colleagues to come to a bipartisan agreement to raise federal spending caps equally for defense and nondefense programs for FY18. Without an agreement, the cap on non-defense discretionary spending will fall to $515 billion, $3 billion below FY17 levels. This could lead to devastating cuts to key affordable housing and homelessness programs.
Senate Appropriations Ranking Member Patrick Leahy (D-VT) sent a letter to the Senate Budget Committee detailing how spending caps required by the Budget Control Act of 2011 (BCA) have impacted discretionary programs. The letter stated that Democrats would continue to fight for parity between defense and non-defense spending.
"To the extent that Congress provides relief from the post-sequestration funding levels for defense programs, we must provide the same relief for domestic and international assistance programs," Senator Leahy stated in his letter.
"The current 2018 spending caps are far too low and would leave our country unable to make investments critical to our families, our economy, and our security," House Budget Committee Ranking Member John Yarmuth (D-KY) said at a press conference. "Members of Congress of both parties have the responsibility – and the opportunity -- to invest in both non-defense and defense spending, boost economic development, and guarantee that every American family has the chance to build a better future. We've raised the caps in a bipartisan manner before, and we must do so again."
The press conference was organized in part by NDD United. NLIHC represents housing, homeless, and community development organizations on the NDD United steering committee.
In the past, Congress and the White House have reached short-term agreements to provide limited budgetary relief equally for defense and nondefense programs. In 2015, Congress reached an agreement to increase the spending caps for FY16 and FY17.  Many lawmakers on both sides of the aisle have stated that the current spending caps are unworkable and could set up the FY18 appropriations process for failure.
Appropriators have also expressed concerns that the late start to the budget and appropriations process will make it impossible to meet the September 30 deadline of enacting new spending bills for FY18.
"I'm very concerned. This will be the latest start since I've been here," said Representative Hal Rogers (R-KY), who was first elected in 1980. "We haven't received the president's budget yet and the Budget Committee is just now beginning to explore things, so there is no timetable."
The House budget resolution will be released sometime in June and will include a topline funding level for discretionary spending.